Easy pork cacciatore
Dinners that are rich in color and flavor can be simple to get to your table. This recipe for easy pork cacciatore is no exception. Discover for yourself in about 30 minutes.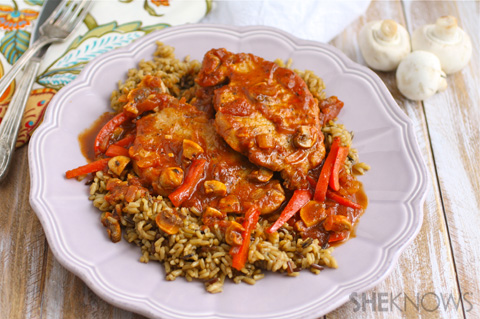 It can be hectic to get dinner ready, let alone making it a traditional, delicious one. This recipe for easy pork cacciatore is easy enough for you to get a great meal on the table in about 30 minutes.
Chicken cacciatore is a traditional Italian dish, but it's nice to switch things up every once in a while. I did that for this recipe by using pork instead of chicken. You still end up with a rich, colorful and flavorful meal that really is easy to make. You could serve this to guests for a special meal, or on any night of the week.
Easy pork cacciatore
Serves 4
Ingredients:
4 (4-6 ounce) thin pork loin cutlets, fat trimmed
3 tablespoons olive oil, divided
1/3 cup diced onion
2 garlic cloves, minced
1 red bell pepper, seeds and membrane removed, cut into thin strips
6 ounces button mushrooms, cleaned and stems removed, cut into slices
1 (16 ounce) can diced tomatoes with the juice
1/2 cup red wine
1/2 teaspoon salt, plus extra to season the pork
1/4 teaspoon ground black pepper, plus extra to season the pork
1/2 teaspoon dried basil
1/2 teaspoon dried oregano
1/4 teaspoon red pepper flakes
8 ounces prepared rice
Directions:
Season the pork with a bit of salt and black pepper on both sides. Add 1 tablespoon of the oil to a large skillet over medium heat. When hot, add the pork loins, and cook until browned, about 3 to 4 minutes on each side.
Remove the pork from the skillet to a plate. Drain the oil from the skillet. While still on medium heat, add the remaining 2 tablespoons of oil to the skillet. When hot, add the onion and cook for several minutes, until they soften.
Add the garlic and red pepper and cook for about a minute. Add the mushrooms and the wine. Stir, and add the tomatoes, salt, pepper basil, oregano and red pepper flakes.
Cover the skillet, reduce the heat to simmer and cook for about 15 minutes, stirring occasionally. When there are 5 minutes left to the cooking time, add the pork to the skillet with the sauce mixture. Cover and continue to cook for 5 minutes.
Serve warm over prepared rice.
Get ready to wow with this cacciatore dish.
More dinnertime recipes
Dinner Shortcuts: Beef taco skillet dinner
Grilled balsamic pork chops
Roasted garlic eggplant pasta