Peanut butter, strawberry and granola sandwiches
Whether you cut on the diagonal or straight down the middle, this sandwich is sure to please. Fresh fruit turns it into a treat.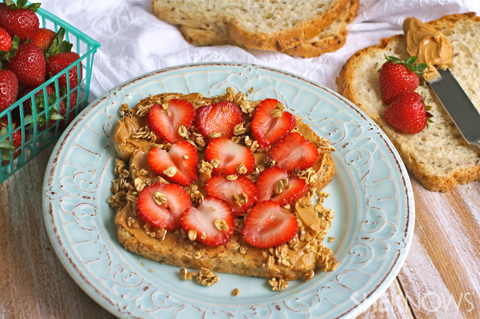 Make over a standard PB & J sandwich with something slightly different, but still delicious. Peanut butter is the mainstay of this sandwich, but we're adding sweet, fresh strawberries and granola for crunch. Sandwiches never tasted so good!
It may sound simple enough, but sometimes we need a little reminder to make lunchtime a little more special. You could add just about any fresh fruit you like to this sandwich, as so many pair well with granola and peanut butter. Think banana, blueberry, raspberry... you get the idea!
Peanut butter, strawberry and granola sandwiches
Makes 1 sandwich
Ingredients:
2 slices sandwich bread (I used multigrain)
2 tablespoons smooth peanut butter
1/8 cup granola
4-5 strawberries, stems removed, hulled, then sliced thin
Directions:
Spread the peanut butter over 1 slice of bread. Sprinkle with almost all of the granola, reserving about a teaspoon.
Add the sliced strawberries over the granola in a single layer. Sprinkle the remaining granola over the strawberries. Top with the second slice of bread, slice and serve.
Look forward to lunchtime with this sandwich!
More lunchtime recipes
Greek pizza muffins
Waffle-grilled BLT
Chicken Parmesan Italian sub