3 Loaded fry and nacho recipes
Some nights, it's totally OK to have fries and nachos for dinner. Especially when said tots and chips are so loaded, they constitute an entire meal. These recipes aren't for the faint of heart and require a fork to eat them.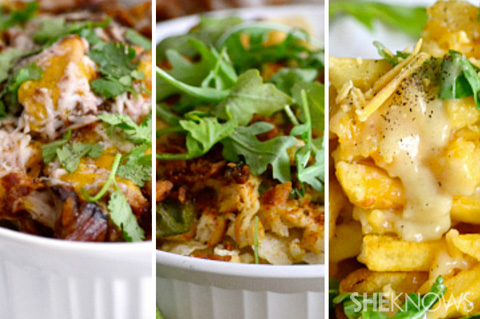 These aren't the weird cheese-laden snacks you get at the ballpark. These loaded nachos and fries are covered in ingredients your whole family will love, like gravy, cheese, pork, ranch and lots of cheese. What's not to love?
1. Poutine loaded french fries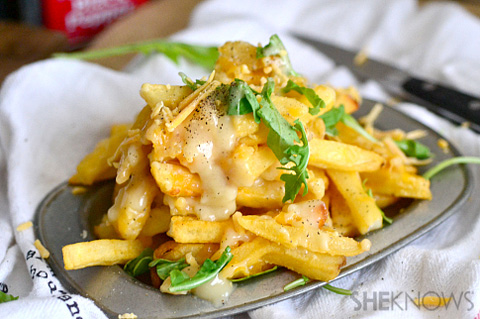 Serves about 8
Ingredients:
1 package frozen french fries, cooked until crispy
1 cup cheese curds (or shredded cheddar cheese)
4 tablespoons unsalted butter
1/4 cup all-purpose flour
2 cups beef broth
Salt and pepper
Directions:
Make the gravy by melting the butter over medium heat. Whisk in the flour until thickened. Gradually add the chicken and beef broth. Reduce heat to medium and whisk until mixture is very thick. Add salt and pepper and remove from heat.
Pour some gravy over the fries and sprinkle with cheddar cheese or cheese curds. Broil for about 2 to 3 minutes or until cheese is melted.
2. Pulled pork BBQ nachos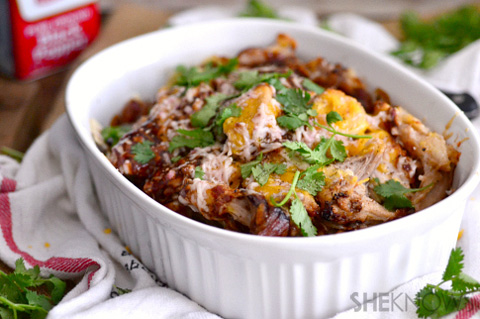 Serves about 6
Ingredients:
1 (3 pound) boneless pork shoulder
3 tablespoons brown sugar
1 medium onion, sliced
1/2 teaspoon cumin
1 teaspoon mustard powder
2 teaspoons olive oil
1/2 cup apple cider vinegar
3/4 cup water
About 1-1/2 cups BBQ sauce
1-1/2 cups cheddar cheese
1/2 cup white cheddar cheese
1 bag tortilla chips
Salt and pepper
Directions:
Rub the pork with brown sugar, cumin and mustard powder. Place in a Crock-Pot. Cover with onion slices, olive oil and vinegar. Pour in the water. Cook on low for about 7 to 8 hours, or until fork tender. Remove from the Crock-Pot and shred with 2 forks. Mix the pork shreds with BBQ sauce.
Preheat oven to 400 degrees F. Grease a casserole dish with nonstick cooking spray.
Layer the chips in the casserole dish. Top with 1/2 cup of shredded cheddar cheese. Top the chips with about 2 to 3 cups of the pulled pork BBQ. Top with remaining cheese and salt and pepper.
Bake for about 14 to 18 minutes, or until cheese is melted and chips are browned.
3. Feta & shredded chicken nachos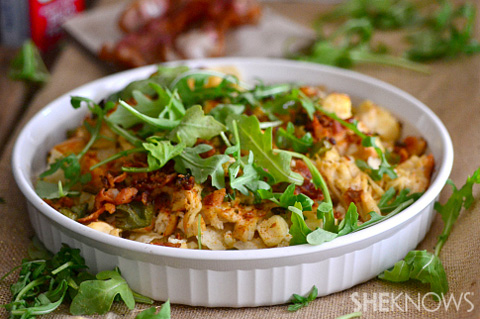 Serves about 4 - 6
Ingredients:
8 ounces tortilla chips
3/4-1 cup feta cheese
3 Laughing Cow white cheddar cheese wedges
1 boneless, skinless chicken breast, cooked and shredded
3 tablespoons olive oil
1/2 large green bell pepper, chopped
2 shallots, chopped
4 slices bacon, cooked and chopped
1 cup arugula
Salt and pepper
Directions:
Preheat oven to 400 degrees F. Layer the chips in a casserole dish. Top with 1/3 cup of the feta cheese and 1-1/2 Laughing Cow wedges. Top with shredded chicken.
Heat the olive oil in a skillet over medium-high heat. Add the peppers and shallots. Cook until softened, about 4 to 6 minutes. Remove from heat and sprinkle over the chicken.
Top with bacon and remaining feta and Laughing Cow cheese.
Bake for about 15 minutes, or until cheese is melted.
Garnish with arugula and salt and pepper.
More nacho recipes
BBQ pulled pork nachos
Peach jalapeño nachos
Super cheesy nachos