Lemon-baked salmon
Lemon-baked salmon is probably the simplest and most beautiful way to serve fish. Slices of a whole filet are baked atop sliced lemons and seasoned to perfection.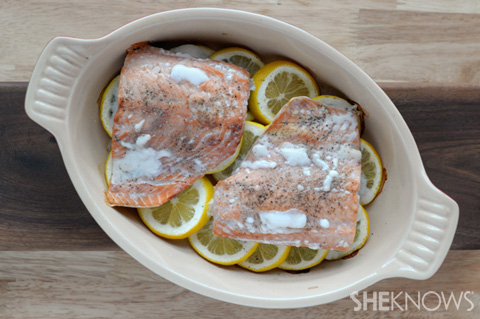 Lemon-baked salmon
Serves 4
Ingredients:
1 pound filet fresh salmon, skin-on, cut into even quarters
4 large lemons
1 teaspoon salt
1/2 teaspoon pepper
Directions:
Preheat oven to 400 degrees F.
Wash the lemons and slice into 1/8-inch thick rounds.
Place the lemons on the bottom of a large baking dish.
Place the salmon filets, skin-side down, on the lemons.
Sprinkle evenly with salt and pepper.
Bake for 20 to 25 minutes until the salmon is just cooked and flaky.
Serve hot.
More healthy salmon dinners
Walnut-crusted salmon
Griddle cooked salmon with soy ginger sauce
Warm salmon salad with lemon vinaigrette