Yeast pancakes with peach-maple butter
Yeast pancakes with peach-maple butter are a fabulous way to celebrate brunch. A light yeasty flavor permeates these delicious cakes, and a simple compound butter does the rest.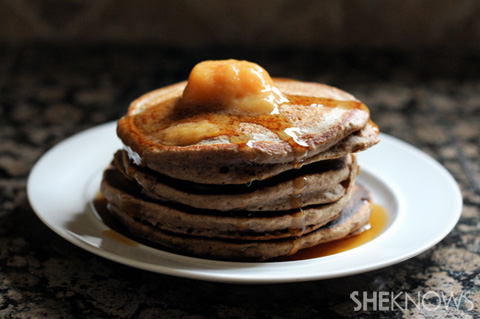 Yeast pancakes with peach-maple butter
Serves 6-8
Ingredients:
1/2 cup warm water
1 tablespoon active-dry yeast
1/2 cup butter, melted and cooled
2 cups milk
1 teaspoon salt
2 tablespoons sugar
3 cups whole wheat pastry flour
2 eggs, beaten
1/2 teaspoon baking soda
1/2 cup fresh chopped peaches
1 stick butter, softened
2 tablespoons pure maple syrup, plus more for serving
Directions:
Combine the yeast and the water in a large mixing bowl and let stand for a few minutes, stirring thoroughly to make sure the yeast dissolves into the water.
Combine the butter with the milk, salt and sugar.
Stir the butter mixture into the dissolved yeast mixture.
Add the flour and stir until a thick dough is formed.
Cover the bowl with plastic wrap and let it sit on the counter overnight. The batter will double or triple in bulk as it rises.
In a smaller bowl, stir together the chopped peaches, maple syrup and butter until the peaches and syrup are evenly distributed.
Scoop the butter onto a large sheet of plastic wrap and gently roll into a log.
Refrigerate until morning.
The next morning, add the eggs to the batter along with the baking soda and whisk until completely combined.
Remove the butter from the refrigerator.
Heat a large griddle over medium-low heat until water droplets bounce off of the surface.
Grease lightly with butter or coconut oil.
Add the pancake batter by 1/3 cup and cook for about 1 to 2 minutes per side, until each side is golden brown.
Repeat until all pancake batter is used.
Serve hot with scoops of the peach-maple butter on top, and additional maple syrup if desired.
More exceptional pancake recipes
Red velvet pancakes with cream cheese glaze
Bacon-stuffed pancake dippers
Cranberry and orange pancakes with cranberry syrup