Dinner Shortcuts: Chicken, bacon & avocado wrap
This wrap is full of delicious chicken, bacon and avocado flavor.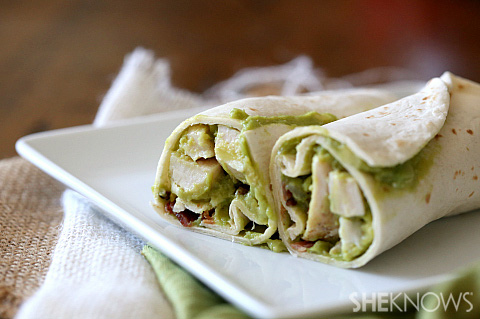 I felt like during the '90s everything was served in a wrap. It was totally overdone and after a while I was over the entire craze. Now that things are more calm and they are not trying to serve everything in a flour tortilla, I'm back on the wrap train. This easy lunch or dinner is packed full of leftover grilled chicken, guacamole and lots of crispy bacon and wrapped up in a soft flour tortilla. You could even add in a little hot sauce if you are looking for a little kick.
Chicken, bacon & avocado wrap
Yields 1 wrap
Ingredients:
1 (12 inch) flour tortilla
1/4 cup guacamole
1/2 cup sliced grilled chicken
2 tablespoons chopped crispy bacon
1 drizzle Sriracha
Directions:
Lay out your flour tortilla and spread with a thin layer of guacamole.
In the middle of the wrap, add chicken and bacon. Drizzle with Sriracha, roll up tightly and cut down the middle.
More Dinner Shortcuts recipes
Greek meatball sliders recipe
Italian sub crescent roll-ups recipe
Chicken and rice casserole recipe