4 Mini recipes that'll cost you just $5
We've all heard of the $5 footlong, but there are so many other, far more delicious things you can eat for just $5. How about a blueberry pancake sammie or a pizza-stuffed popover? These delicious recipes will cost you just five bucks and taste so much better than a footlong.
And they don't require any weird ingredients or you wearing pants! These can be made in the comfort of your own home for your entire family. And really, how cute are mini foods? Totally makes dinner and breakfast just a little bit more fun, don't you think?
1. Mini blueberry pancake sammies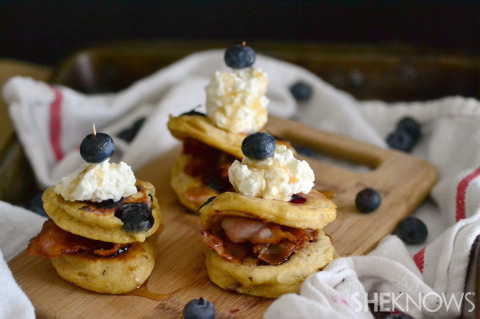 Serves about 6. Total cost: About $4
Ingredients: 
1/2 cup + 2 tablespoons AP flour
1/4 teaspoon salt
1-1/2 teaspoons baking powder
1 teaspoon brown sugar
2 tablespoons egg beaters
1/2 cup milk
1 teaspoon melted butter
1/4 cup fresh blueberries
6 slices bacon, cooked
Syrup for garnish
Whipped cream for garnish
Directions: 
In a large bowl, whisk the flour, salt, baking powder and sugar together. Add the egg beaters, milk and melted butter. Stir mixture to combine. Gently fold in blueberries.
Heat a large skillet over medium-high heat and spray with nonstick cooking spray. Using a tablespoon, scoop pancake batter onto the skillet and cook until golden brown on each side, about 3 to 5 minutes.
Cut the bacon pieces in half. Stack 1 pancake with a slice of bacon (cut in half) with another pancake and use a toothpick to hold together. Serve with whipped cream and syrup.
2. Mini baked apple oatmeals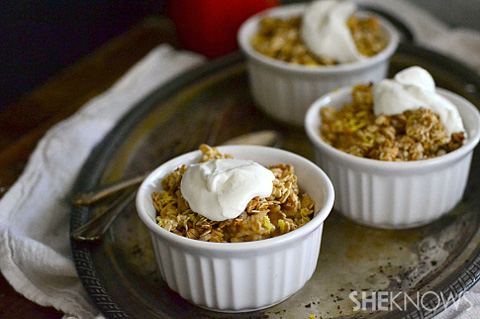 Serves about 8. Total cost: About $4
Ingredients: 
2-1/2 cups old fashioned oats
2 cups milk
2 cups heavy cream
1/3 cup brown sugar
1 teaspoon apple pie spice
2 apples, chopped
1/2 cup chopped pecans
About 1 cup granola
Whipped cream
Directions:
Heat oven to 350 degrees F. Grease 8 ramekins with nonstick cooking spray and place in a large baking dish.
In a large bowl, mix the oats, milk, cream, brown sugar, apple pie spice, apples and pecans. Fill each ramekin about 3/4 the way full with mixture.
Bake for about 40 minutes, or until most of the liquid is evaporated. Serve with 2 tablespoons of crunchy granola (for a great texture!) and serve with whipped cream.
3. Mini vegetarian pot pies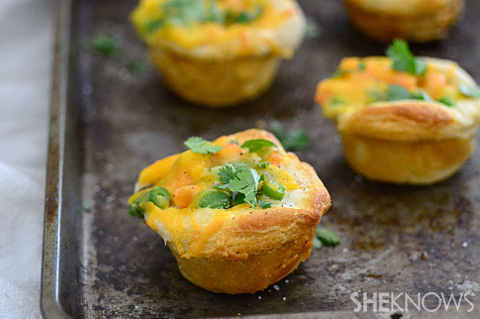 Recipe adapted from Pillsbury
Serves about 8.
Total cost: About $5
Ingredients:
2 cups frozen vegetables (I used a soup mix with okra, green beans, carrots, peas)
1 can Grands biscuits
1 can cream of mushroom soup
1 cup cheddar cheese
Fresh cilantro for garnish
Salt and pepper
Directions:
Preheat oven to 375 degrees F. Grease a muffin pan with nonstick cooking spray and set aside.
Carefully press each biscuit into the muffin tin cavities, pressing up the sides to evenly cover.
In a large bowl, mix the soup, frozen veggies and 3/4 cup of the cheddar cheese.
Fill each biscuit cavity with a heaping spoonful of filling. Top remaining fillings with remaining cheese, salt and pepper.
Bake for about 20 minutes, or until golden brown. Garnish each pot pie with cilantro.
4. Mini pepperoni pizza bundles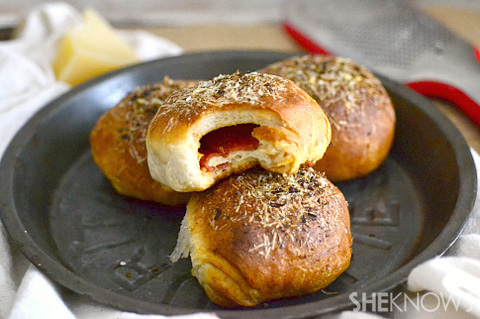 Serves about 15. Total cost: About $5
Ingredients:
1-1/2 cans Pillsbury canned biscuits (15 total biscuits)
45 slices pepperoni
8 mozzarella sticks
About 1 cup Parmesan cheese, shredded
2-1/2 tablespoons Italian seasoning
1/3 cup melted butter
Pizza sauce for dipping
Directions:
Preheat oven to 425 degrees F. Grease a large 9 x 13-inch pan with nonstick cooking spray. Mix the Parmesan cheese with Italian seasoning.
Gently roll out each biscuit. Fill each biscuit with 3 slices of pepperoni, 1/2 mozzarella stick (cut in bite-size pieces) and 1 tablespoon of Parmesan cheese/Italian seasoning mixture. Gently fold the biscuit dough back over the filling and press the edges together to seal.
Place the biscuits seam side down into the baking sheet. Brush the tops with 1 teaspoon of melted butter and sprinkle with a dash of Parmesan cheese and a dash more of seasoning.
Bake for 18 minutes, or until golden brown. Serve with pizza sauce.
More cute mini recipes
Mini banana split bites
Mini corn dog muffin recipe
3 Bite-size breakfast treats