Carrot cake pancakes with coconut whipped topping
Carrot cake is a tried-and-true dessert option. Why not start your day off right with these carrot cake pancakes with coconut whipped topping?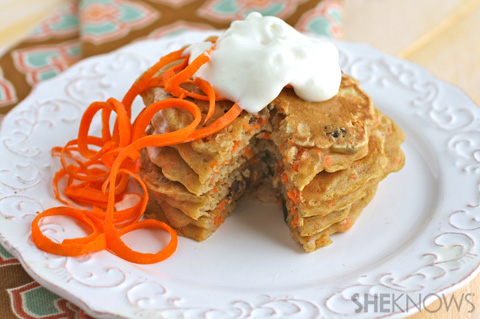 When it's your turn to make breakfast, it's always preferred to make something that not only tastes delicious, but that isn't too complicated to prep. I think you should give these pancakes a try — they're sure to wow everyone at the table.
Shredded carrot, raisins and spices are perfect to add to your mix. Top them with creamy coconut whipped topping for the final touch.
Carrot cake pancakes with coconut whipped topping
Makes 8 (4 inch) pancakes
Ingredients:
2/3 cup all-purpose flour
1 tablespoon sugar
1 teaspoon baking powder
1/4 teaspoon salt
1/2 teaspoon cinnamon
1/4 teaspoon ginger
1 egg
1 cup milk
1-1/2 tablespoons vegetable oil
1/3 cup shredded carrots
1/4 cup raisins
1 (15 ounce) can coconut milk, refrigerated overnight
1/2 teaspoon pure vanilla extract
2 teaspoons sugar
Optional: Butter or vegetable oil for the pan or griddle
Directions:
Whisk together the flour, 1 tablespoon sugar, baking powder, salt, cinnamon and ginger.
In a separate bowl, add the egg and beat it lightly. Add the milk and vegetable oil, and whisk to combine.
Make a well in the center of the dry ingredients. Add the egg mixture and stir until smooth.
Carefully fold in the carrot and raisins.
Open the can of coconut milk and use a spoon to scoop out the solid white portion into a medium bowl. Discard (or save for another use) the clear mixture.
Add the vanilla and sugar to the coconut cream. Use a mixer to beat the ingredients until thick and frothy. Refrigerate until ready to use.
Place a pan or griddle over medium-low heat. Add the butter or vegetable oil to the pan to coat the pan, if using.
When hot, spoon the pancake batter into the center of the pan into a 4-inch round. When you see air bubbles cover the surface of the pancake, flip it and cook for a few minutes. Remove from the heat and keep warm. Continue until the batter is gone.
Serve immediately and top the pancakes with the coconut whipped topping.
Stack 'em high for a fab breakfast dish.
More breakfast recipes
Chocolate-cinnamon waffles with salted caramel sauce
Oatmeal-raisin breakfast cookies
Cinnamon streusel yogurt muffins