Chewy brown rice bars
I have a weakness for Rice Krispies treats, but who doesn't? They are the perfect sweet snack in one bar. But this recipe here is made with a peanut butter base and uses brown rice cereal, making this snack a bit better for you with less sugar. This healthier sweet treat will get your kids asking for more!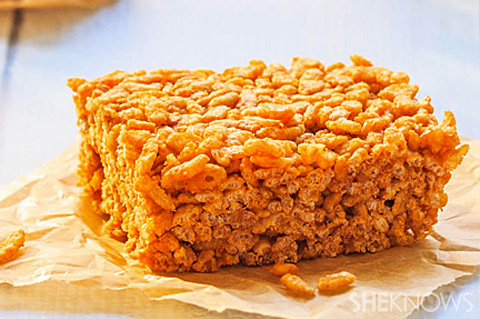 These chewy brown rice bars are so good, I could not eat just one!
Chewy brown rice bars
Makes 4-6 servings
Ingredients:
3 cups brown rice cereal
1/2 cup creamy peanut butter
2 teaspoons vanilla extract
3-4 tablespoons honey, agave nectar or maple syrup
Cooking spray, optional
Directions:
In a bowl, mix together the peanut butter, vanilla extract and agave until smooth. Stir in the brown rice cereal making sure to coat well. Line a pan with wax paper or spray with cooking oil (I used coconut oil). Spread evenly into the pan and very firmly press down with a spoon to flatten.
Place in the freezer for at least 40 minutes before slicing. Cut into bars (or even roll into balls) and store leftovers in the freezer, fridge or loosely covered in a cool, dry place.
More healthy recipes
Sweet potatoes with balsamic maple glaze recipe
Harvest glazed carrots recipe
Roasted vegetables recipe