Easy baked black bean flautas
Mashed black beans and cheese are rolled up in organic corn tortillas and baked until crispy. Serve these flautas with salsa, sour cream or guacamole as a dip.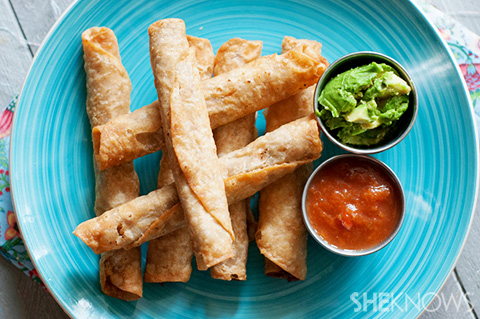 Flautas are a delicious little snack or light dinner that's perfect for little fingers. This version uses mashed organic black beans and a small amount of shredded cheddar cheese making these not only super tasty but vegetarian. You can certainly make these ahead and either freeze them until ready to enjoy or keep them refrigerated for several days. Try serving these crispy Mexican-inspired dippers with salsa, jazzed up sour cream or even a homemade guacamole!
Easy baked black bean flautas recipe
Yields 12
Ingredients:
1 (16 ounce) can refried black beans
1/2 small sweet onion, minced
1 teaspoon cumin
1 tablespoon taco seasoning
1 cup shredded cheddar cheese
12 small organic corn tortillas
Directions:
Preheat oven to 350 degrees F and line a baking sheet with parchment paper.
In a bowl combine the refried black beans, onions, cumin and taco seasoning mixing very well.
Spoon the bean filling down the side of a tortilla and top with a sprinkle of cheese.
Begin rolling up the tortilla keeping it rolled as tight as possible. Place on the baking sheet and repeat with remaining tortillas until all the flautas are rolled.
Bake the flautas for 12 to 15 minutes or until the tortillas are golden brown and begin to crisp.
Remove from the oven and allow to cool slightly. Serve warm with suggested dips (salsa, flavored sour cream or guacamole).
More Mexican recipes
Mexican vegetarian-style lettuce wraps
Mexican rice pudding
Cilantro-lime burrito bowls