Crispy oven-roasted fingerling potatoes
Crispy oven-roasted fingerling potatoes help make the back-to-school dinner transition easier. Serve alongside your favorite main course any night of the week.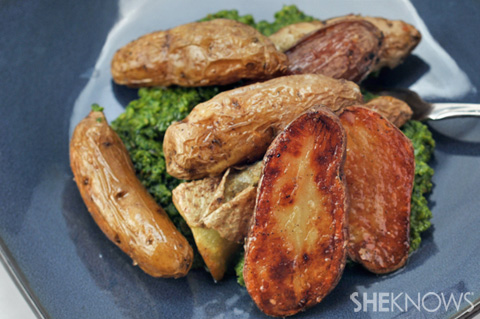 Crispy oven-roasted fingerling potatoes
Serves 4
Ingredients:
1-1/2 pounds fingerling potatoes, washed and cut in half lengthwise
2 tablespoons olive oil
2 teaspoons garlic powder
1 teaspoon onion powder
1 teaspoon mustard powder
1-1/2 teaspoons seasoned salt
1/2 teaspoon black pepper
Directions:
Preheat oven to 425 degrees F.
Spray a large baking sheet with cooking spray and set aside.
In a small bowl, toss together the garlic powder, onion powder, mustard powder, seasoned salt and black pepper.
In a large bowl, toss the potatoes with the olive oil, making sure they are evenly coated.
Spread on the baking sheet, then sprinkle evenly with the seasoning mixture.
Roast at 425 degrees F for 20 to 25 minutes, tossing 2 to 3 times, until the outside is crispy and the inside of the potatoes is soft.
Let cool slightly before serving hot.
More fingerling recipes to love
Roasted fingerlings with yogurt ranch drizzle
Saffron fingerling potato salad with mixed greens and tomatoes
Bacon and Brussels sprout hash