Yogurt-covered fruit skewers
Yogurt-covered fruit skewers are beautiful, kid friendly and healthy to boot. Fresh fruit is skewered, then dipped in yogurt and frozen for a simply beautiful treat.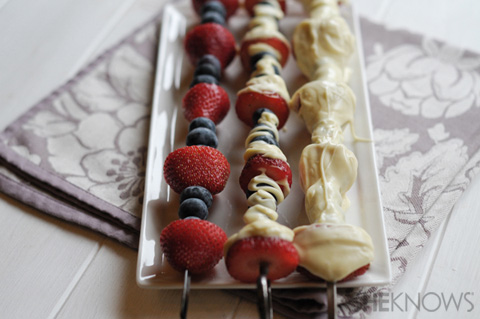 Yogurt-covered fruit skewers
Makes 8 skewers
Ingredients:
1 pint strawberries, washed and hulled
1 pint blueberries
2 cups vanilla yogurt of choice
Directions:
Using metal or wooden skewers, evenly skewer the fruit so that each skewer has the same amount of fruit. This is also a fun activity for children.
Line a baking sheet with parchment paper.
Using a spoon, gently coat each piece of fruit with yogurt as desired, then place the skewer on the prepared baking sheet.
Repeat until all of the skewers are coated.
Place the skewers in the freezer for 2 hours until the yogurt is frozen completely.
Remove and let thaw for 3 to 5 minutes, then enjoy.
More fruit recipes to love
Watermelon grill with fruit kabobs
Grilled fruit kabobs with honey-mint citrus sauce
Fruit kabobs with pudding dip