3 Creative and kid-friendly apple pie recipes
As a kid, I absolutely adored apple pie. I couldn't wait until Thanksgiving so I could eat two or three slices of my mom's thick, sweet and incredibly juicy pies. However, my brothers and my husband aren't exactly as big of fans of fruit pies as I am. That's why I decided to play around with apple pie in fun new ways to deceive them into finally enjoying my favorite dessert.
It's only deception if they don't love the desserts, right? These three cute and fun twists on regular apple pie might actually take the place of your traditional pie this fall.
1. Portable pies (in apples)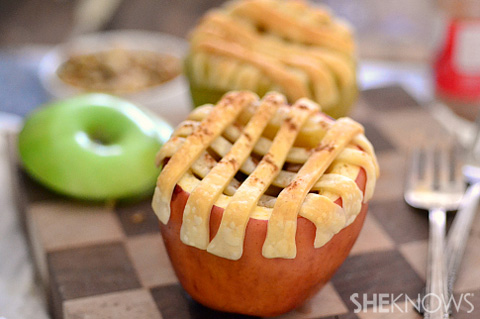 Serves about 4
Ingredients:
4 red and green apples
1 store-bought pie crust
2 cups apple pie filling (use this recipe for homemade)
1 teaspoon apple pie filling
Directions:
Preheat oven to 350 degrees F.
Slice the tops off the apples and discard. Using a spoon, carefully core the apples, reserving the insides of 2 of them for your pie filling.
Fill each apple with 1/2 cup of filling you made.
To make the crust, cut into quarters and then slice each quarter into 1/4-inch thickness. Carefully lace the tops of the pies with the crust.
Place in a baking dish and fill with 1/3 cup of water. Bake apples for about 22 minutes, or until golden brown.
2. Cheesecake & caramel apple pie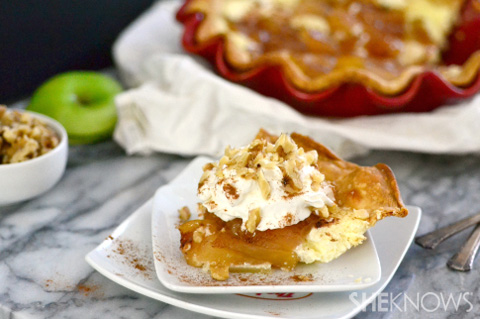 Serves about 8 to 10
Ingredients:
1 pie crust (store bought or homemade)
8 ounces cream cheese
1 egg
1/3 cup sugar
For the filling:
6 medium Granny Smith apples, sliced
3/4 cup brown sugar
2 tablespoons corn starch
1/2 teaspoon apple pie spice
1 teaspoon lemon juice
For the topping:
Whipped cream
Apple pie spice
Chopped walnuts
Directions:
Preheat oven to 375 degrees F. Grease a 9-inch pie plate with nonstick cooking spray. Roll the dough out and carefully spread over the pie plate, leaving enough on the sides for crimping.
Beat the cream cheese, egg and sugar together in a food processor. Pour over the crust.
In a large bowl, whisk the apple slices, brown sugar, corn starch, lemon juice and apple pie spice together. Let sit for about 5 minutes.
Spread the apple pie filling over the cheese filling.
Bake for about 42 minutes. Immediately chill in the fridge for about 2 hours to set.
Serve with whipped cream, apple pie spice and chopped walnuts.
3. Creamy breakfast apple "pie"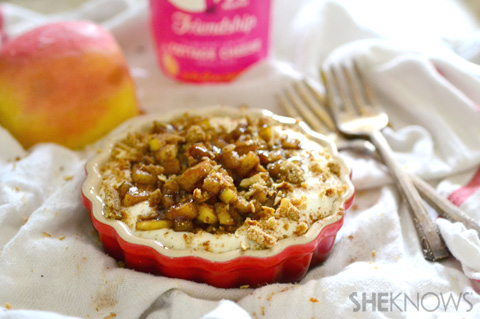 Serves about 2
Ingredients:
1 medium Gala apple, chopped
2 tablespoons unsalted butter
2 tablespoons brown sugar
2 cups Friendship Dairies cottage cheese
1/2 teaspoon cinnamon
2 tablespoons chopped graham crackers
Directions:
Melt the butter in a saucepan over medium heat. Add the chopped apples, brown sugar and cinnamon. Cook on medium heat until softened and fragrant, about 4 to 6 minutes.
Meanwhile, puree the cottage cheese until smooth. Pour into 2 bowls and top with apple pie mixture. Sprinkle the tops with graham cracker crumbs.
More apple recipes
Crunchy caramel boozy milkshake
Apples, not just for pies anymore
Snickers caramel apple salad