Modern Mom: Superfoods for kids
Superfoods are packed with nutrients that provide an array of health benefits — such as preventing diseases, losing weight, reversing the effects of aging and more. Though they're geared toward adults, let's not forget about the kids.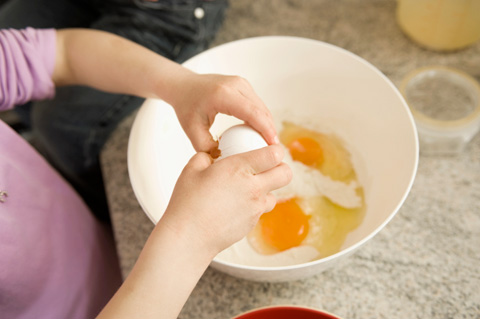 Photo credit: Westend61/Brand X Pictures/Getty Images
Superfoods that adults love include goji berries, turmeric, acai berry and chia seeds. And let's not forget about the super-trendy quinoa and kale, either. While us adults typically enjoy the taste of these foods, kids more than likely won't. I mean, what kid requests a fruit smoothie loaded with kale? Not mine, that's for sure! But their health is just as important as ours, and we need to make sure they're eating foods packed with nutrients, too.
Sweet potatoes
Sweet potatoes are great for both kids and babies who have moved on to solids. They're sweet, so kids normally won't put up a fight when they're served. Packed with B vitamins, potassium, fiber, vitamin A, vitamin C and more, sweet potatoes are one of the world's healthiest vegetables. Try sweet potato French fries with burgers or this sweet potato mash with caramelized onions, just in time for Thanksgiving.
Eggs
Did you know that eggs are one of the most nutritious foods on the planet? One egg contains six grams of protein, vitamin A, vitamin D, folate, calcium, B vitamins and more. My kids love scrambled eggs, but other options include fried, baked, hard-boiled or sunny-side up. Try this scrambled egg breakfast tostada recipe or these sweet egg pancakes with berries.
Broccoli
Broccoli is another one of the world's healthiest foods. It's packed with antioxidants, good for bone and heart health, prevents constipation and is high in fiber, potassium, calcium and vitamin C. Now, we know what you're thinking — how in the world are you going to get a 5-year-old to eat (and enjoy!) broccoli? Well, the easiest way is by adding it to their favorite meals, such as mac 'n' cheese, spaghetti with pasta sauce or as a topping on pizza. You can also blend it in smoothies or serve raw with their favorite dip, such as ranch or hummus.
Yogurt
Yogurt and milk are two of the best foods for growing kids. Both are loaded with calcium for strong bones and rich in protein. Yogurt fights off bad bacteria; milk is good for the teeth and rich in vitamin D. Luckily, dairy products normally aren't too hard to get kids to consume. My 2-year-old could live off milk if I let her. For dessert, give these quick and easy fruity frozen yogurts a try.
Blueberries
Blueberries are good for the brain, loaded with antioxidants, protect against heart disease and obesity, and are naturally sweet and delicious. Kids love them blended up in smoothies (try one cup blueberries, one banana, one cup milk, a tablespoon of sugar and a dash of vanilla extract), mixed in with yogurt or on top of oatmeal. They're good for the memory, too, so try feeding your kids a handful or two with their breakfast before school each morning. Or, if you're up a little early, try these whole-wheat pancakes with blueberries and toasted almonds.
More Modern Mom
Modern Mom: Food and toddler temper tantrums
Modern Mom: The healthiest fast food kids' meals
Modern Mom: The importance of vitamin A for your kids