Dinner Shortcuts: Chicken & broccoli Alfredo pasta
Chicken, broccoli and Alfredo are a match made in flavor heaven.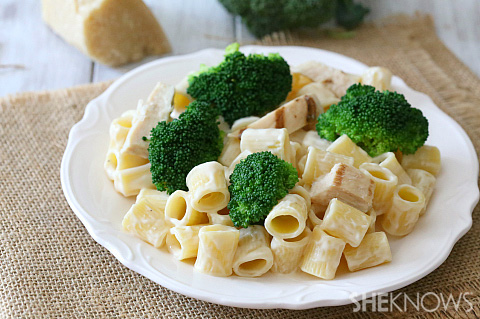 This super-simple chicken and broccoli Alfredo pasta can be ready in just about 15 minutes and will satisfy the whole family! My husband devoured this whole plate in no time.
Chicken & broccoli Alfredo pasta
Yields 4 servings
Ingredients:
1 pound pasta
1 pound broccoli, steamed
3 leftover fully cooked chicken breasts, sliced
1 jar Alfredo sauce
Grated Parmesan cheese
Directions:
Bring a large pot of water to a boil over high heat. Add in pasta and cook until al dente, following box directions. Once pasta is ready drain and add back to the pot.
While the pasta cooks, steam broccoli and set aside.
Once the pasta is cooked and back in the pot, add broccoli, chicken and Alfredo sauce.
Add back to stove over low heat and gently cook until all warmed through.
Serve hot and with a side of grated Parmesan cheese.
More Dinner Shortcuts recipes
Greek meatball sliders recipe
Italian sub crescent roll-ups recipe
Chicken and rice casserole recipe