Lemon basil vinaigrette with summer fresh salad
Lemon basil vinaigrette is the easiest and most deliciously versatile dressing to make this summer. Toss it on a simple salad of fresh lettuce, peaches, dried cherries and toasted pecans for a healthy and beautiful meal.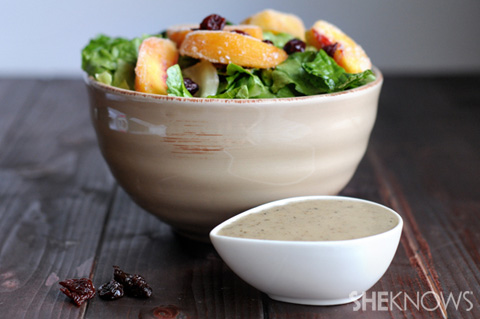 Lemon basil vinaigrette with summer fresh salad
Serves 4-6
Ingredients:
1/4 cup lemon juice
1/3 cup olive oil
1-1/2 teaspoons Dijon mustard
1 small shallot, chopped finely
1/3 cup finely chopped basil
4 cups fresh lettuce of choice (romaine, mache, iceberg, etc.)
1 cup chopped fresh peaches
1/4 cup dried cherries
1/4 cup toasted pecans, chopped
Directions:
First assemble the salad by mixing together the lettuce, peaches, cherries and pecans. Set aside.
In a food processor, process the lemon juice, mustard and shallot.
Add the basil and process again until mixed.
With the processor on, stream in the olive oil until the mixture is emulsified.
Season with salt and pepper as desired.
Toss half of the dressing with the salad, leaving the remainder in a dish for others to serve more if desired.
Serve immediately.
More fresh salad dressing recipes
Sweet Vidalia onion salad dressing
Pear and hazelnut salad dressing
South African salad dressing