Dinner Shortcuts: Chicken and rice Rotel tomato bake
Throw it all together and bake it up. It's casserole at its finest.
Dinnertime does not have to be hectic and crazy. This super-simple chicken and rice Rotel tomato bake is packed full of flavor and can easily be prepared in under 30 minutes.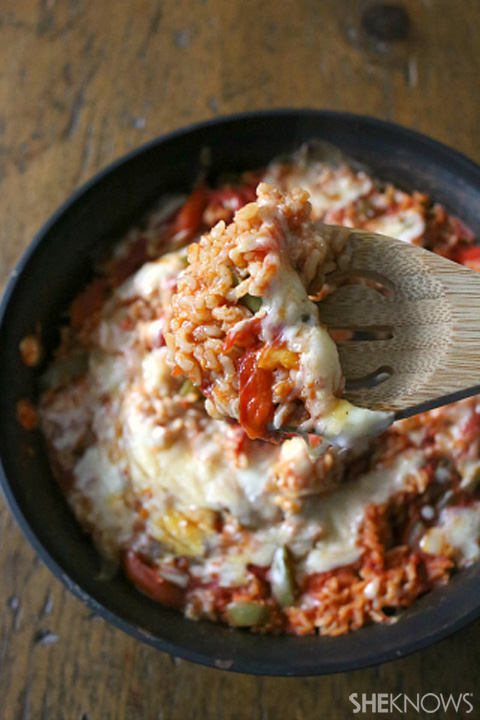 Chicken and rice Rotel tomato bake
Yields 2-4 servings
Ingredients:
2 cups cooked shredded chicken, picked from a rotisserie chicken
1 (10 ounce) can Rotel tomatoes
1 (14 ounce) can whole tomatoes
1/2 cup sliced green peppers
2 cloves garlic, minced
1 teaspoon chili powder
1/2 teaspoon smoked paprika
Kosher salt and pepper, to taste
1 (8 ounce) packet 90-second rice
1/2 cup chicken stock
1 cup shredded cheese
Directions:
In a large skillet set over medium heat, add shredded chicken, Rotel tomatoes, whole tomatoes, green peppers, garlic, chili powder, smoked paprika, kosher salt and paprika.
Stir together and mash down whole tomatoes.
Once the mixture is hot add in rice (no need to cook it 90seconds, it's precooked), stock and stir. Let simmer until most of the liquid is evaporated.
Top with shredded cheese and melt under the broiler in your oven.
More Dinner Shortcuts recipes
Greek meatball sliders recipe
Italian sub crescent roll-ups recipe
Chicken and rice casserole recipe