Fiesta black bean dip with crunchy veggies
School's in session, so now is a good time to learn a lesson about fun and flavorful lunch and after-school snacks. This dip is creamy and loaded with veggies for a great option.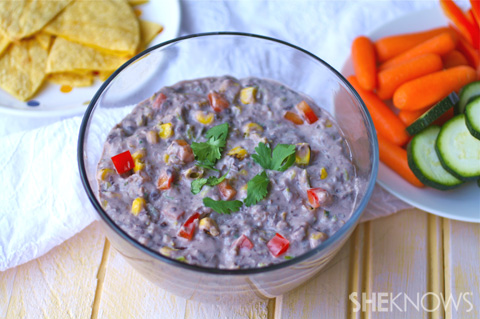 You'll earn high marks for serving this fiesta black bean dip with crunchy veggies. It's colorful and creamy (thanks to Greek yogurt), and it can do double duty as part of a meal or as an afternoon snack.
The added corn, red bell peppers and jalapeno peppers (you can leave these out if you don't want the heat), give this creamy dip a lot of flavor. Serve it with crunchy veggie sticks and a few chips to do the dipping.
Fiesta black bean dip with crunchy veggies
Yields about 2 cups
Ingredients:
1 tablespoon olive oil
2 green onions, ends trimmed, cut into small pieces
1 garlic clove, rough chopped
2 tablespoons prepared diced jalapenos
1/4 teaspoon ground cumin
1/4 teaspoon salt
1/4 teaspoon ground black pepper
1 (15 ounce) can black beans, drained and rinsed
1 tablespoon fresh cilantro
1/2 cup Greek yogurt
1/3 cup corn kernels
1/3 cup diced red bell pepper
Veggies for dipping
Directions:
Add the olive oil to a skillet over medium heat. When hot, add the onion and garlic. Cook for 3 to 5 minutes, or until the onion softens.
Add the jalapenos, stir and cook for about a minute. Add the black beans, salt, pepper and cumin. Stir to combine, and remove from the heat.
Allow the mixture to cool slightly, then add it to a food processor with the cilantro and Greek yogurt. Pulse a few times to break down the beans, onions, garlic and jalapenos.
Transfer the mixture to a bowl and add the corn and red peppers. Stir to combine. Cover and refrigerate for at least 45 minutes.
Serve chilled with veggie sticks or tortilla chips.
Get the party started with this colorful and tasty dip.
More snack recipes
PB & J muffins
Apple almond butter stacks
Snacks on sticks: 3 Easy after-school snack ideas