2-Bite homemade easy corn dogs
We all love corn dogs but who wants to bust out the deep fryer? Bake them instead.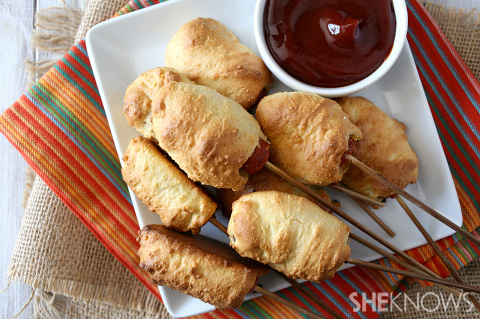 I have always had a serious love for corn dogs. My husband always laughs at me when I order one out in public. Deep down inside I'm secretly still a kid. This version gives you all that classic corn dog taste without have to get out your deep fryer.
2-Bite homemade easy corn dogs
Yields 20
Ingredients:
1 box cornbread
4 tablespoons all-purpose flour
10 hot dogs, cut in half
20 small bamboo skewers
Ketchup, for dipping
Directions:
Preheat your oven to 400 degrees F and line a baking sheet with parchment paper or a silpat liner.
In a medium-sized mixing bowl make cornbread according to box directions. Stir in flour and mix until combined. The added flour will make the cornbread mixture extra thick and this helps keep it stuck to the hot dogs.
Using a paper towel wipe off any moisture on the hot dogs and stick them on a bamboo skewer.
Dip the hot dog into the cornbread mixture and using a small spatula help cover the hot dog in the cornbread mixture. Don't make the layer too thick — just a nice layer around the dog will work.
Add covered hotdogs to the prepared dish.
Once all the hot dogs have been covered bake for 12 to 15 minutes until golden brown on top.
Serve alongside a big bowl of ketchup for dipping.
More hot dog recipes
Cheesy caramelized onion and grilled veggie hot dog
Mexican hot dogs
Kogi hot dogs