Barbecue baked onions
Barbecue baked onions are a 2-ingredient wonder that will leave your family asking for more. Sweet onions are sliced and then slow-baked in your favorite barbecue sauce for a perfect side every time.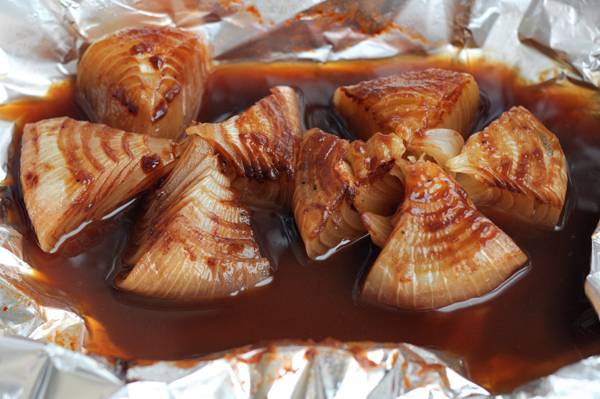 Barbecue grilled onions
Serves 4-6
Ingredients:
4 large whole sweet onions, peeled
1-1/4 cups barbecue sauce of choice
Directions:
Cut each onion with a deep X shape, making sure not to cut all the way through.
Place the onions in the middle of a large sheet of heavy duty aluminum foil.
Drizzle evenly with barbecue sauce.
Wrap the foil around the onions, making sure to seal it well to keep the steam from escaping.
Heat a grill to about 350 degrees F.
Place the onions on a top rack, and grill at 350 degrees F for 75 to 90 minutes.
You may also place them in a 350 degree F oven for the same amount of time.
Allow to cool for about 5 to 10 minutes before opening.
Serve hot alongside your family's favorite protein for a delicious meal.
More onion recipes to love
Grilled salmon with caramelized onions
How to make the best French onion soup
Smothered cheese fries with caramelized onions