Condensed milk chocolate chip cookies
Pop open a can of condensed milk and make yourself some cookies. Light and fluffy these are the cookies of cakey cookie lovers' dreams.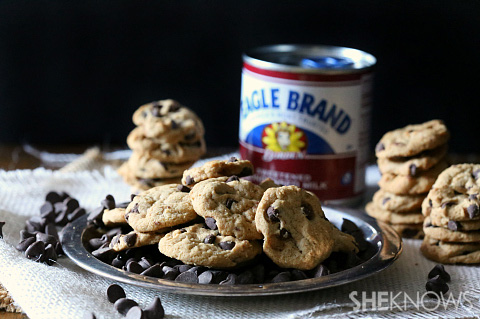 Cookies are always a big hit around my house. The only thing that beats a fresh cookies is a fast and easy fresh cookie. You're going to love how easy these sweet treats are.
Condensed milk chocolate chip cookies
Yields about 18 small cookies
Ingredients:
1/2 cup unsalted butter, room temperature
1/4 cup sweetened condensed milk
1 cup white whole wheat flour
1-1/2 teaspoons baking powder
1/4 cup kosher salt
1/3 cup miniature chocolate chips
Directions:
Preheat oven to 350 degrees F and line a baking sheet with parchment paper and set aside.
Mix butter and sweetened condensed milk.
Stir in remaining ingredients until fully combined.
Roll into 2-inch balls and place on prepared baking sheet.
Bake for about 10 minutes until fully cooked.
More cookie recipes
Chocolate espresso cookies
Four-ingredient peanut butter cookies
Deep dish chocolate chip pie