Cake batter Rice Krispies cake
Have you always dreamed of having a Rice Krispies cake for your birthday?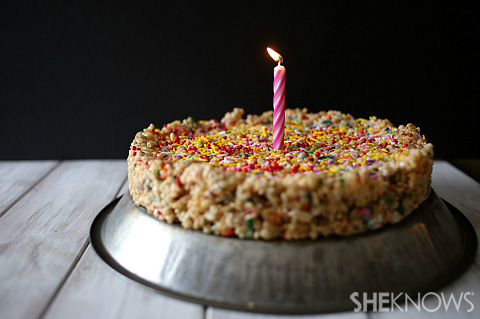 For my birthday I would gladly take just about anything besides cake. Don't get me wrong, I love cake. I just figure if it's my special day I want something better than cake. You know what's better to me? Rice Krispies treats packed full of cake flavoring and lots of sprinkles. This cake is what my birthday dreams are made of.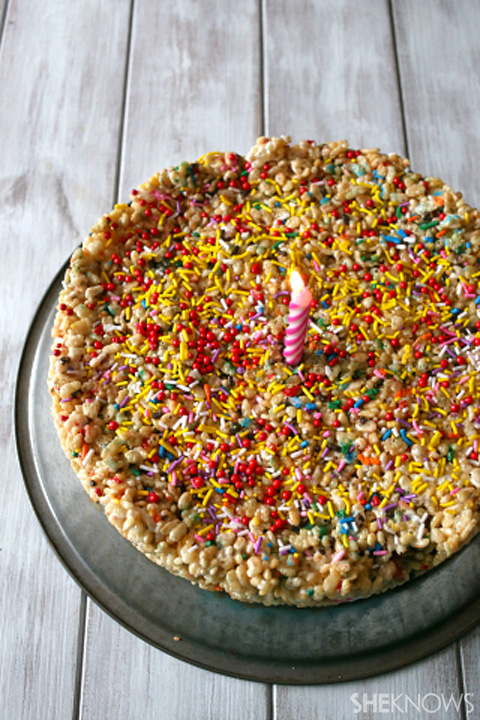 Cake batter Rice Krispies cake
Yields 1 (8-inch) cake
Ingredients:
1 (10 ounce) bag marshmallows
4 tablespoons butter
1/4 cup dry yellow cake mix
6 cups Rice Krispies cereal
Sprinkles (use desired amount) 
Directions:
Line an 8-inch cake pan with foil and spray with nonstick spray, set aside.
In a large skillet add marshmallows and butter. Place over medium heat and stir until completely melted.
Add in cake mix and stir to combine.
Remove from heat and add in cereal. Stir to evenly coat cereal in marshmallow mixture.
Place into prepared dish and press down firmly into the pan.
Let sit for a few hours to set up and harden slightly.
More Rice Krispies treats
Gluten-free Rice Krispies treats
4th of July layered Rice Krispies treats
Christmas coal Rice Krispies treats