Vegan chunky monkey banana bread
Fresh bananas are mashed and combined with coconut sugar, spices and flax meal to make this healthy bread perfect for breakfast time or for snacking.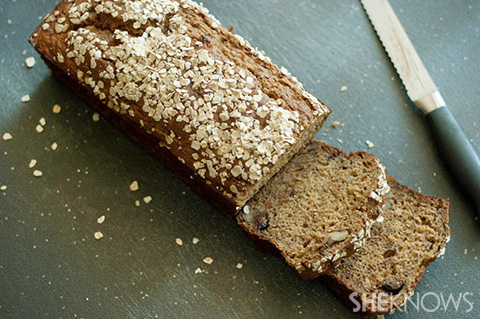 What better way to use up overripe bananas than by baking a fresh loaf of homemade bread. Rather than adding loads of sugar and other unhealthy ingredients I used all-natural ingredients such as organic coconut sugar, flax meal, creamy almond butter and dark chocolate. Aim for using those ugly bananas that are soft and spotty as they give the bread extra sweetness rather than using yellow or unripe bananas that are more bitter.
Vegan chunky monkey banana bread
Yields 10-12 servings
Ingredients:
2 tablespoons flax meal
6 tablespoons warm water
2 cups self-rising flour
1/4 teaspoon salt
1 tablespoon cinnamon
1/2 cup dairy-free butter, such as Earth Balance brand, melted
3/4 cup organic coconut sugar
3-4 large ripe bananas, mashed
1/4 cup almond butter, melted
1/4 cup apple sauce
1/4 cup chopped walnuts
1/2 cup dark chocolate chips
2 tablespoons rolled oats
Directions:
Preheat oven to 350 degrees F and grease a 9 x 5-inch loaf pan.
In a small bowl, add the flax meal and 6 tablespoons of warm water. Mix well and allow to sit for 10 minutes.
In a large mixing bowl, combine the flour, salt, cinnamon and coconut sugar.
In a separate bowl, combine the mashed bananas, almond butter, apple sauce and the flax meal mixture and mix well.
Fold the wet ingredients into the dry ingredients mixing well until smooth.
Mix in the walnuts and chocolate chips and pour the mixture into the greased loaf pan.
Sprinkle the top of the bread with the 2 tablespoons of rolled oats.
Bake for 35 to 40 minutes or until the center of the bread is baked completely.
Remove from the oven and allow to cool completely. Remove from loaf pan and slice.
Store in an airtight container for up to 4 days.
More banana recipes
Frozen banana bites
Quinoa peanut butter banana bars
Grilled banana s'mores