3 Unique gourmet sandwiches your kids will crave
As a kid, packed lunches are never as exciting as the cafeteria food, even though the things your mom packs are probably 100 percent better than the slop they feed in schools nowadays. Get your kids excited about packed lunches again by sticking one of these gourmet and delicious sammies into their lunch boxes.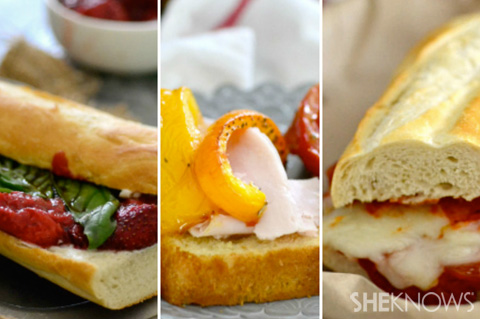 These sandwiches are so good, you'll probably want to make one for yourself. Or, better yet, you can eat the sandwiches you make your kids and just give them lunch money instead. I know, I know, but once you try these, you'll understand.
1. Roasted strawberry and white cheddar baguette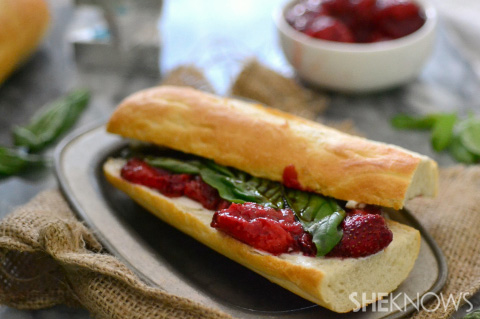 Serves about 3
Ingredients:
1 baguette, toasted
1 pint strawberries, hulled
1 tablespoon brown sugar
3 wedges Laughing Cow white cheddar cheese
Fresh basil
Directions:
Preheat oven to 375 degrees F. Place the strawberries in a glass baking dish and sprinkle with 1 tablespoon of brown sugar. Bake for about 32 minutes. Remove from oven and smash with a spoon.
Separate the baguette into thirds and slice in half. Spread 1 wedge of cheese on 1/2 of the baguette thirds. Top with roasted strawberries and fresh basil.
2. Double cheese pizza sandwiches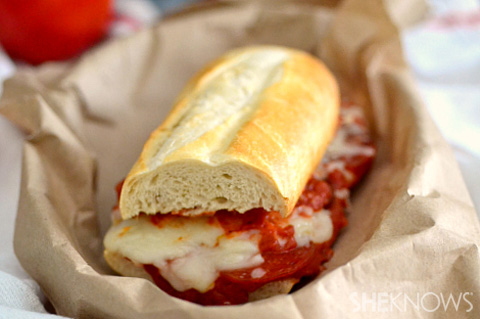 Serves 3
Ingredients:
1 baguette, toasted
6 tablespoons pizza sauce
3/4 cup shredded mozzarella cheese
18 slices pepperoni
1/2 cup grated Parmesan cheese
1-1/2 teaspoons Italian seasoning
Directions:
Preheat oven to 350 degrees F. Separate the baguette into thirds and then slice each third in half. Spread 2 tablespoons of pizza sauce over each baguette half (I did 1 tablespoon on each side).
Top 1/2 of the pizza sauce covered baguette with mozzarella cheese (about 1/4 cup) and 6 slices of pepperoni. Top with 2 tablespoons of Parmesan cheese and Italian seasoning.
Place the second half of baguette over the cheese and pepperoni.
Grease a baking sheet with nonstick cooking spray and place the 3 sandwiches on it. Bake for about 10 to 11 minutes, or until cheese is fully melted. Serve immediately.
3. Turkey with roasted veggies, mustard and mayo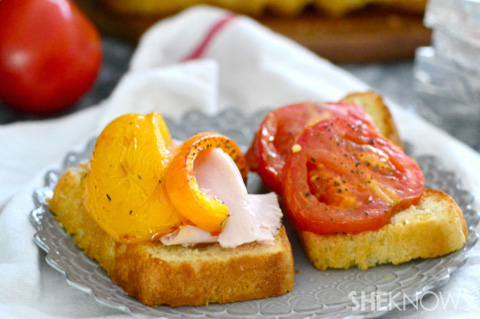 Serves about 4. Bread yields 1 loaf.
Ingredients: 
For the bread
1 cup warm (110 degrees F) water
1 package active dry yeast
1/4 cup white sugar
3/4 teaspoon salt
2 tablespoons extra virgin olive oil
3 cups bread flour
For the sandwiches
8 slices turkey
1 bell pepper, chopped
2 tomatoes, sliced
2 tablespoons olive oil
Salt and pepper
4 teaspoons Dijon mustard
4 wedges Laughing Cow pepper jack cheese
Baby arugula
Directions: 
To make the bread, mix the water, yeast and sugar together. Stir slightly and let sit until foamy, about 10 minutes. Mix in the salt and olive oil, stir to combine.
Add the flour, 1 cup at a time, and mix until a soft dough forms. Move the dough to a hard floured surface and with heavily floured hands knead until soft and elastic. Move the dough ball to an oiled bowl and cover with a damp cloth. Place in a warm spot in your kitchen and let rise until doubled in size, about 60 to 90 minutes.
Once risen, punch dough down. Grease a standard size loaf pan with nonstick cooking spray. Place the dough into the loaf pan and cover with damp cloth. Place in a warm spot and let rise again for about 30 minutes.
Preheat oven to 350 degrees F. Bake the bread for about 30 to 32 minutes, or until golden brown.
Place the bell pepper slices and the sliced tomatoes into a casserole dish. Drizzle with olive oil, salt and pepper. Roast for about 30 minutes or until vegetables are soft.
Slice the bread into slices. Toast 8 of the slices in a toaster. Top 1 slice of bread with 1 wedge of cheese, 2 slices of turkey, a few pieces of the roasted peppers and tomatoes, 1 teaspoon of Dijon mustard and arugula. Top with another slice of bread. Serve immediately.
More lunch box recipe ideas
5 Fast granola bar recipes
3 Unique lunch box ideas
Peanut butter and jam scones