Dinner Shortcuts: Spicy vegetable frittata
Frittata is the perfect fast-paced weeknight meal. Full of flavor and super healthy.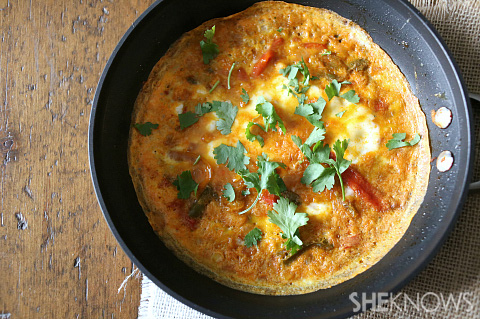 Frittatas are the easiest option for fast weeknight dinners. This baby is packed full of cilantro, vegetables and just a hint of spice.
Spicy vegetable frittata
Yields 2 servings
Ingredients:
8 eggs
1/4 cup heavy cream
1 tablespoon olive oil
1/4 cup diced peppers
1/4 cup diced onions
1/4 teaspoon smoked paprika
Pinch cayenne pepper
Salt and pepper, to taste
1/2 cup shredded cheddar cheese
2 tablespoons minced cilantro
Directions:
In a medium bowl whisk together egg and heavy cream, set aside.
Over medium heat add an 8-inch skillet and add in olive oil. Once hot, add in peppers, onions, smoked paprika, cayenne pepper, salt and pepper and cook until soft.
Pour in eggs and add in shredded cheese. Stir once to combine everything and then let cook for about 5 minutes until the bottom and edges have just started to set.
Put in the oven and cook under the broiler for about 5 minutes. The frittata will be done when the top no longer jiggles and is fully cooked.
Sprinkle top with cilantro and enjoy hot or at room temperature.
More Dinner Shortcuts recipes
Corn dog muffin recipe
Taco mac casserole recipe
Oven baked meatball sub recipe