Healthy chocolate chocolate chip muffins
I love serving these healthy muffins for breakfast with coffee or as a sweet midday snack. I add in whole wheat pastry flour for its health properties and texture but regular whole wheat is fine, too. I also mixed in ground flaxseed, coconut oil and agave nectar for an even healthier recipe.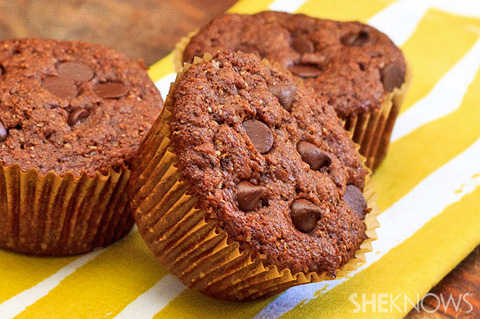 Try baking these delicious muffins for your family. It's the perfect dessert to satisfy your chocolate cravings!
Healthy chocolate chocolate chip muffins
Makes about 12
Ingredients:
2 cups whole wheat pastry flour
2 teaspoons baking powder
1/2 teaspoon baking soda
2 tablespoons unsweetened cocoa powder
1 tablespoon ground flaxseed
1/3 cup sugar
1/4 teaspoon salt
3/4 cup chocolate chips
1 cup milk
1/3 cup coconut oil, melted
2 tablespoons agave nectar
1 egg
Directions:
Preheat the oven to 400 degrees F.
In a large bowl, add flour, baking powder, baking soda, cocoa, flaxseed, vanilla, salt and chocolate chips. In a small bowl add the milk, coconut oil, agave and egg. Roughly whisk the wet ingredients together but not fully smooth.
Mix together the dry and wet ingredients making the batter somewhat lumpy. Spoon the batter into paper-lined muffin cups. Bake for about 20 to 25 minutes. Cool before serving.
More healthy recipes
Sweet potatoes with balsamic maple glaze recipe
Harvest glazed carrots recipe
Roasted vegetables recipe