Sweet heat Crock-Pot sloppy Joes
Sweet heat Crock-Pot sloppy Joes can be made with or without the heat part, but are fully flavorful no matter what. Make weeknight dinner easier on everyone with this winning slow cooker option.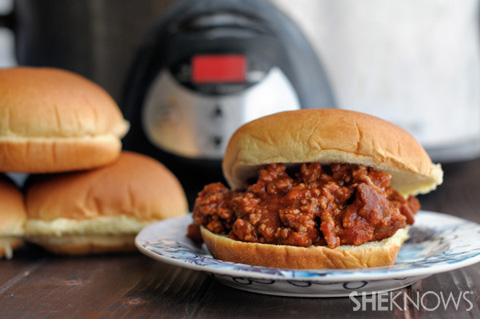 Sweet heat Crock-Pot sloppy Joes
Serves 8-12
Ingredients:
2 pounds ground beef
1/2 cup ketchup
1/4 cup brown sugar
2 tablespoons Dijon mustard
2 tablespoons Worcestershire sauce
1/4 cup tomato paste
2 teaspoons red wine vinegar
2 cups tomato sauce
3 cloves garlic, minced
1 large yellow onion, chopped
2 tablespoons chili powder
1 teaspoon crushed red pepper
2 teaspoons salt
1 teaspoon fresh ground pepper
Directions:
In the crock of a slow cooker, combine all ingredients except the beef and stir to combine.
Using your fingers, crumble in the ground beef, then stir to combine.
Cook on low for 6 to 8 hours or until the beef is completely cooked through and the sauce has thickened.
Serve hot atop hamburger buns.
More sloppy Joe recipes to love
Sloppy Joe grilled cheese
Healthy homemade sloppy Joe wraps
Philly cheesesteak sloppy Joe sandwich