Double baked turkey roll-ups
If you can't get your kids to eat anything you're making these days, here's my suggestion, slather it in cheese. I know it might not be the healthiest of options, but it beats frozen chicken nuggets or take out pizza, again. This double baked turkey roll-up is ultra cheesy and filled with things all kids love, turkey.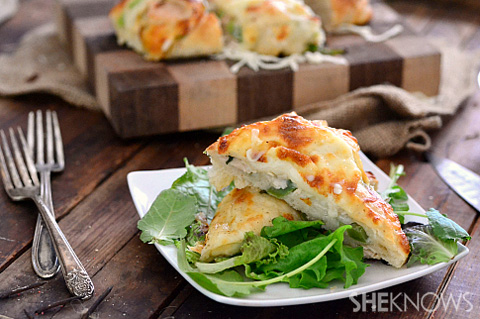 This double cheese, high protein roll-up is made with just 6 ingredients and only takes about 20 minutes to bake. I don't know about you, but anything that easy and cheap is worth a try on a busy weeknight!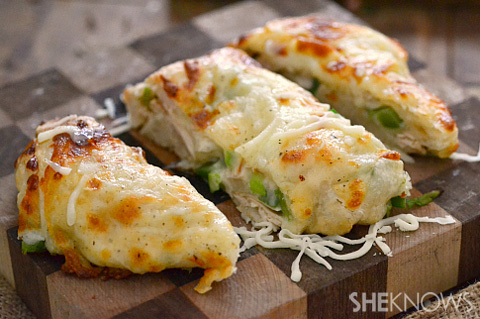 Double baked turkey roll-ups
Serves about 6-8
Ingredients:
1 can Pillsbury refrigerated pizza crust
1/4 cup Alfredo sauce
1/2 cup chopped green peppers
2 cups turkey lunch meat, chopped
1-1/2 cups shredded mozzarella
1/2 teaspoon salt and pepper
Directions:
Preheat oven to 400 degrees F. Grease a baking sheet with foil and spray with nonstick cooking spray.
Unroll the pizza crust. Spread the Alfredo sauce over the crust, leaving a 1/2-inch border. Top with chopped turkey, green peppers and salt and pepper.
Sprinkle with 3/4 cup of cheese. Roll the dough up (like you would a cinnamon roll) and cut in half.
Bake for about 10 minutes. Sprinkle the 2 halves with remaining cheese and bake another 8 minutes.
Preheat broiler to high and broil for about 3 to 4 minutes, or until cheese is fully melted and browned.
More cheesy baked recipes
Restaurant copycat: Cheesy pizza bread
Loaded baked potato chicken recipe
30 Days of Mac 'n' cheese