Foods to keep on hand for last-minute dinners
We've all been there: you have two hungry kids and the only edible things in your house are a bag of goldfish crackers, one banana and a half-eaten chocolate bar. Before you throw it all in the blender and proclaim "We are having goldfish chocolate smoothies for dinner," check out these tips on foods you should keep stocked for last-minute dinners.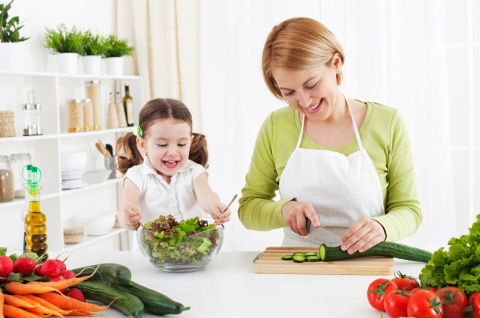 Photo credit: Dejan Ristovski/Vetta/Getty images
Cooking dinner for the family (or just for two) doesn't have to be a nightly chore when you keep your fridge and pantry stocked with a few foods that can be thrown together for healthy and tasty last-minute dinners. In fact, having a well-stocked kitchen gives you plenty of healthy options that will save you from chowing down on fast food.
Lifestyle and entertaining expert Cheryl Najafi of CherylStyle says she always has tortillas on hand. "It seems like everything can be made into a taco, a burrito or a wrap," she says. "My family loves anything wrapped in a tortilla, even if it's just a quesadilla with some leftover veggies!"
Najafi also recommends that you look for fast-cooking grains, like quinoa, that are loaded with nutrients and can be on the table in as little as 20 minutes.
Her other go-to item? "I grill chicken breasts, slice and freeze them for quick dinners like pasta dishes and stir fry. If you don't have precooked chicken, individual frozen chicken breasts and tenderloins are easy to portion and defrost and cook in a very short period of time."
You can also pick up a precooked rotisserie chicken to be eaten by itself or added into tortillas with veggies for a quick fajita — or even added into soups. Keep a variety of vegetable soups, bisques or chowder (or whatever you and the kids like), too, for a quick dinner that can be paired with a grilled cheese sandwich. Comfort food at its best.
Mom of two and fitness expert Sara Haley says she relies on prechopped salads. She mixes in nuts, like almonds, cashews or pine nuts, and adds berries and grated cheese to give her family a quick and easy kick of greens.
Haley also likes to keep on hand ground beef or ground turkey with taco seasoning (Taco Tuesday!) as well as chicken flavored with garlic. "I also like to prechop and cook chicken at the beginning of the week, and that way, I can add it to salads later on," she says.
She also makes sure to keep a bottle of BBQ sauce in her pantry. "I like adding BBQ sauce to leftover chicken to make BBQ chicken," Haley says.
Unlike fresh vegetables, which have a short shelf life, frozen veggies keep fresh for much longer, as do meats. Stock up on these items so you have plenty of dinner options. Frozen chicken strips or fish sticks are great items to pair with veggies for a quick and easy meal. Frozen edamame can be warmed up in the microwave in just a few minutes and, when sprinkled with salt, make a great side dish that kids will enjoy.
Mom of three Chrissy Jones keeps lamb chops and steaks from Costco in her freezer. "That way, I can defrost it in the morning and just throw it under the broiler," she says.
Jones's other must-have foods to keep on hand include pasta, chicken breasts, deli turkey, tortillas and pizza dough. "The trick is to have staples on hand," she says.
You might also like
Moms spill on their dinner routines
How to get dinner on the table faster
Stuffed pizza quesadillas recipe