Moms share what their dinner routines look like
Do you get mom guilt from thinking of other moms whipping up a made-from-scratch dinner each night (using organic tomatoes from their home garden, of course) while you warm up leftovers to serve somewhere between homework and bedtime? We chatted with moms to find out their dinner routines (and, yes, they also serve leftovers). These moms had some great tips to make the dinner routine run a bit more smoothly.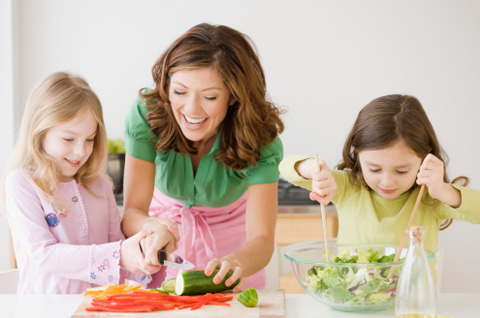 Photo credit: Tetra Images - Jamie Grill/Brand X Pictures/Getty images
Lennox McNeary sums up the way many working moms feel about cooking dinner each night.
"I often don't get home from work until 6 p.m., and since I haven't seen my son all day, the last thing I want to do is spend an hour cooking dinner," she confessed. "However, I want to make sure we do have healthy family meals together."
Her solution? McNeary says she does her grocery shopping during the weekend and has her son help her prep meals ahead of time.
"We do a grocery run over the weekend, and then I spend an hour or so on Sunday afternoon doing meal prep for the week. My 5-year-old son often 'helps' me, so that gives us good time together," she says. "When I plan ahead, I can usually have dinner on the table in 20 to 30 minutes with minimal hands-on time that night, so I can play with my son while dinner is cooking. We try to get at least five meals at home during the week but will often do at least one meal out with friends."
Eileen Wolter has two boys, ages 9 and 6, and she confesses that she has recently had to adjust her dinner routine.
"As a single mom who recently went back to work, I've had to retool the dinner menu from when I used to cook with all fresh ingredients," she said. "One thing I've learned is to keep healthy pasta variations around and then easy things to mix with them for semi-homemade and quick meals we can eat and sit down together."
Wolter says she uses frozen meats and veggies and sautées them with olive oil, grated cheese and whole-wheat penne. "I also let [my kids] select pasta variants to make it more interesting for them," she says.
Daphne Early, a mom of two boys ages 5 and 3, has a planned approach to her dinner routines.
"Dinners have to absolutely be planned. Otherwise, I end up scrambling looking for something that's not frozen," she says. "I plan our dinners for the week over the weekend and do all my food shopping on Sunday."
Moms, take note of this tip from Early: "My husband and I have come to the understanding that on weekends, I need a break from cooking. We usually order dinner either Friday or Saturday night, and the other days, my husband takes to the kitchen!"
Lori Fries has three children, and not only does she have to plan dinner around hockey, marching band and trapeze, but her youngest is a vegan. What is her strategy for dinner?
"I always have a box of waffle mix on hand for breakfast for dinner," she says, sharing that she also likes to make one protein dish to spread over several nights. "I love my Crock Pot, and it is helpful to have things cooking when I am on the go."
Mom of three Chrissy Jones has a genius dinner hack: She orders her groceries online and has the basic shopping list saved into peapod.com so she can order each week.
"I put effort in, but not tons," confesses Jones, who says she cooks at least three nights a week.
"Dinners can be as simple as quesadillas or grilled chicken with a side of pasta and steamed veggies. If I'm really being lazy, then I do turkey roll-ups and a side of pasta and veggies," says Jones, who adds that she uses her slow cooker regularly during the winter. "The trick is to have staples on hand."
You might also like:
How to get dinner on the table faster
Foods to keep on hand for last-minute dinners
Crunchy tortilla chicken recipe