How to get kids to like vegetables
What if getting kids to eat their veggies didn't have to be a struggle? We asked dietitians, food bloggers and a child psychologist to share their tips on how to make vegetables more approachable to kids.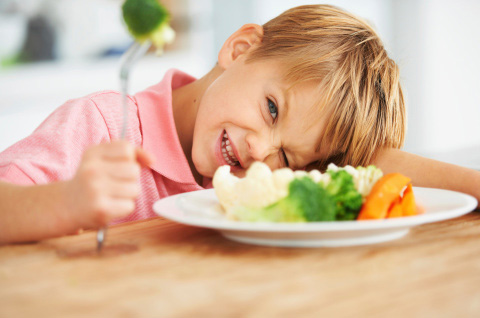 Photo credit: Yuri_Arcurs/iStock/360/Getty images
Make vegetables fun
Registered dietitian and blogger Cara Rosenbloom, RD, of Words to Eat By recommends boosting the fun factor when serving veggies to the kids. "Cut them into fun shapes. Use scissors, a mandoline or a vegetable peeler to turn red peppers into stars, carrots into flowers and cucumbers into fanciful ribbons."
Kids are more enticed to eat from plates with at least six colors, says Rosenbloom, so she suggests making an edible rainbow. Use a wooden skewer and thread on cherry tomatoes, carrots, yellow peppers, cucumber and purple cabbage.
Get interactive. There's something irresistible about dunking crunchy veggies into a bowl of ranch dressing. Rosenbloom likes to serve a tray of sliced vegetables with dip when kids are most hungry: when they come home from school. Try serving those veggies with a side Hidden Valley Ranch dressing and they'll disappear in no time.
Focus on flavor
If you've been telling the kids to eat their veggies because they're healthy, we're sorry to say you've been making a big mistake. Research has shown that kids actually eat fewer veggies when parents talk them up this way. "Keep the conversation neutral about foods and treat veggies as any other food that you would put on your plate," says Diana Sugiuchi, RD/LDN, ACSM-HFS, of Nourish Family Nutrition.
Instead of rambling on about how healthy vegetables are or how they will help your child grow big and strong, put your efforts into making them taste good! Face it: Plain steamed veggies aren't very appealing, particularly to kids with sensitive taste buds. Sugiuchi recommends trying things like glazed carrots, broccoli with cheese sauce or veggies served with ranch or hummus for a dip.
New cooking methods are another way to make vegetables tastier for kids. Sugiuchi likes roasting veggies in the oven to give them a sweeter caramelized flavor. Her favorite roasting method is to cut veggies into bite-sized pieces, drizzle with olive oil and sea salt and roast in the oven at 375 degrees for 30 minutes or until golden brown. Simple and delicious.
For more tips on serving healthy food kids will love, check out Sugiuchi's Family Meal Planning guide.
Don't make it a struggle
Mark Loewen, LPC, a child therapist in Richmond, Virginia, has worked with his share of picky eaters. His advice? Relax. Power struggles will only intensify the picky eating behavior. "Make sure you use a soft tone of voice. You can empathize with your child by saying something like, 'I know you don't like X. Let's work on it together.'"
Loewen also advises parents that repetition is more important than quantity, as taste buds get used to flavors and texture through repeated exposure. "Five peas every other day will be much more effective than two days of a full plate of peas," he says.
Keep things positive by setting small goals and celebrating them. Don't make the mistake many parents do — responding with negative comments, even when the child ate the minimum amount required.
Involvement goes a long way in developing your child's love for vegetables, says Lowen. Encourage your kids to come up with food combinations they like. Involve your kids in preparing the salad, then praise the result. Help your child plant a garden or maybe a small tomato plant to create a connection to the food they're eating.
And if frustration sets in, remind yourself that this is not a power struggle. Your child will be much more open to trying new foods if they feel like you're on their side.
This post was sponsored by Hidden Valley Ranch.
More advice for parents of picky eaters
How to get picky eaters to try new foods
Fun items to get your picky eater eating
5 Steps to turn your picky eater into a foodie