Easy taco bowls
Tortillas are formed in oven safe bowls and then baked until crispy. Stuff these healthy bowls with all of your favorite taco fillings.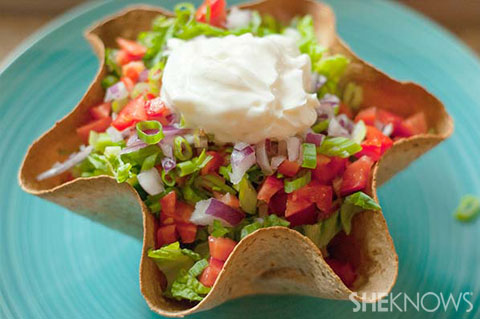 I love Mexican food so much I think I could eat it every day! While delicious, sometimes it isn't the healthiest option for dinner until now. Rather than use high-calorie taco shells or tortillas I simply used a single whole grain tortilla and formed it in a greased oven safe bowl and baked it. The result is a super-healthy version of a crunchy taco but stuffed into a little bowl. Kids will love this and rather than using a taco shell all of your fillings stay neatly inside the tortilla bowl.
Easy taco bowls recipe
Yields 6
Ingredients:
For the tortilla bowls:
6 oven safe bowls or ramekins
Nonstick cooking spray
6 small fajita-sized tortillas
For the filling
1 pound cooked ground taco meat of choice (turkey, beef, chicken)
1 cup shredded cheddar cheese
Shredded romaine lettuce
2-3 small tomatoes, diced
1/2 red onion, diced
1/2 cup thinly sliced green onions
Sour cream, salsa and fresh cilantro for garnish
Directions:
Preheat oven to 350 degrees F and spray each of the oven safe bowls with cooking spray.
Form each of the tortillas to fit inside each of the bowls and place the bowls on a baking sheet in the oven. Bake for 6 to 8 minutes or until crispy.
Remove the tortilla bowls from the oven and divide the cooked taco meat between each of the bowls.
Top with romaine lettuce, tomatoes, onions and garnish with sour cream, salsa and fresh cilantro.
Best served immediately.
More healthy Mexican recipes
Mexican-style lettuce wraps made vegetarian
Tips for making Mexican food healthy
Cilantro-lime rice burrito bowls