Cinnamon streusel yogurt muffins
Cinnamon streusel yogurt muffins are the perfect treat for school mornings or weekend brunch. Add a little sweetness to your mornings with these big, beautiful muffins.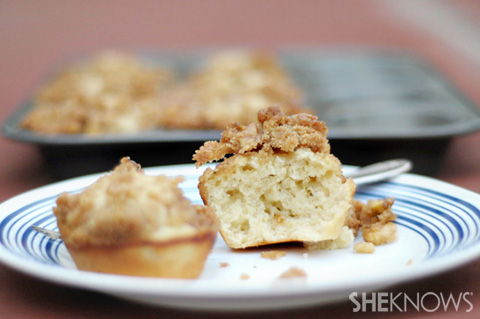 Cinnamon streusel yogurt muffins
Makes 12 large muffins
Ingredients:
1 cup flour
1/2 teaspoon baking powder
1/4 teaspoon salt
3/4 cup sugar
1 cup plain yogurt
1 egg
1 teaspoon vanilla
2 tablespoons butter
1/3 cup brown sugar
1/3 cup rolled oats
1 tablespoon flour
1/2 teaspoon cinnamon
Directions:
Preheat oven to 350 degrees F.
In a bowl combine the sugar, yogurt, egg and vanilla.
Sift in the flour, salt and baking powder and stir until all of the dry ingredients are incorporated.
Spoon into muffin pan that has been greased and only fill each cup up about halfway.
In a small bowl press the butter, oats, brown sugar, tablespoon of flour and cinnamon together using your fingers.
Spoon a little bit of the mixture on top of each muffin.
Bake at 350 degrees F for 15 minutes or until a toothpick comes out clean.
Let cool for about 5 minutes.
Serve warm or at room temperature.
More lovely muffin recipes
2-Minute blueberry muffins for one
Quinoa carrot cake breakfast muffins
Almond poppy seed muffins