Gluten-free meals with 7 ingredients or fewer
Being an adult is hard, especially when you're an adult who has kids with allergies to feed and a budget to keep. When one of your family members is diagnosed with celiac or gluten intolerance, the realm of your dinner possibilities dramatically shrinks (and the prices dramatically increase). That's why I whipped up four 7-ingredient or fewer gluten-free meals that stick to a budget and are easy to make.
These gluten-free dishes are so good, even your kids without allergies will love them. Simple, easy and cheap, your crazy back-to-school weeknights just got a little bit easier. I'm sorry I can't also help with algebra homework and PTA moms.
1. Prosciutto pizza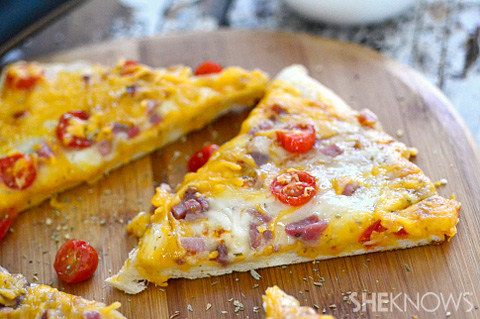 Serves about 6-8
Ingredients:
1 pre-cooked gluten-free pizza crust
1 cup pizza sauce
1-1/2 cups shredded cheddar cheese
1/2 cup shredded mozzarella cheese
1 cup chopped prosciutto
1 cup sliced cherry tomatoes
Salt and pepper to taste
Directions:
Preheat oven to 450 degrees F and grease a pizza stone with nonstick cooking spray. Place the crust on the stone and spread the pizza sauce over the crust. Top with 1/2 of the cheddar cheese and the mozzarella cheese. Top with prosciutto and cherry tomato slices. Top with remaining cheese and salt and pepper.
Bake for about 15 to 16 minutes or until the cheese is melted and the crust is golden brown.
2. Quinoa fried rice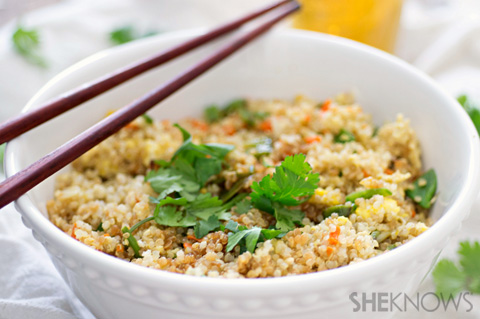 Serves about 6-8
Ingredients:
1-3/4 cups gluten-free chicken broth
1 cup cooked quinoa
1/2 cup onion, peeled and chopped
2 large carrots, peeled and chopped
1 tablespoon sesame or peanut oil
2 large eggs, beaten
4 tablespoons soy sauce
Directions:
Bring the broth to a boil in a large saucepan over high heat. Stir in regular quinoa and reduce heat to medium-low. Cook until softened, about 12 to 15 minutes. Fluff with a fork and transfer to a large bowl.
Heat the oil in a large skillet over medium heat. Add the onion and carrots. Cook until softened, about 6 to 7 minutes. Stir in the quinoa.
In a small bowl, whisk the soy sauce, salt and pepper. Pour the sauce over the quinoa mixture.
Pour in the eggs and stir-fry 3 to 4 minutes, or until set. Serve immediately.
3. Spicy herb chicken skewers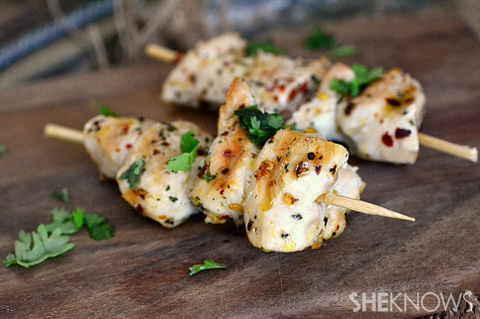 Serves about 4 to 6
Ingredients:
2-1/2 pounds boneless, skinless chicken breasts
2-1/2 tablespoons extra virgin olive oil
2-1/2 tablespoons chopped cilantro
1 tablespoon crushed red pepper
Zest of 1 lemon
Salt and pepper
Directions:
Soak wooden skewers in water for about 30 minutes.
Cut the chicken breasts into bite-size pieces and toss with the seasoning.
In a large mixing bowl, mix the cilantro, crushed red pepper, lemon zest and salt and pepper together.
Preheat a grill to medium-high heat. Skewer the chicken onto the soaked skewers and place on the grill. Brush each one with olive oil and grill for about 13 to 15 minutes, turning every 5 minutes.
4. Crispy baked flounder with avocado salsa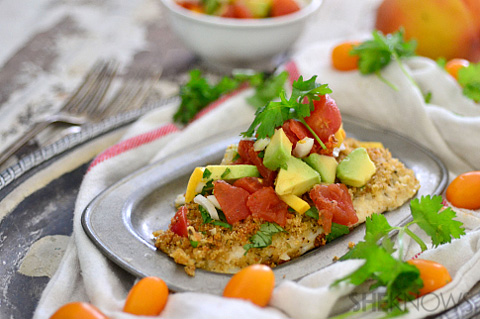 Serves about 4
Ingredients:
4 founder filets
3/4 cup shredded Parmesan
1/2 cup gluten-free breadcrumbs
4 tablespoons unsalted butter

2 tomatoes, chopped

1 seeded avocado, chopped
1 peach, chopped
Cilantro for garnish
Directions:
Preheat the oven to 425 degrees F. Mix the Parmesan, salt, pepper and breadcrumbs together. Mix in the melted butter.
Scoop the breadcrumb mixture onto the flounder filets and press onto them with the back of a spatula. Place in a greased baking sheet and bake for about 15 minutes.
While it bakes, prepare the salsa by mixing the tomatoes, avocado and peach together.
Once the filets have cooled, top with salsa and cilantro for garnish.
More gluten-free recipes
Gluten-free artichoke and rice salad with lemon pepper dressing
Gluten-free cauliflower pizza crust
Low-carb bacon, goat cheese and tomato tart