Modern Mom: Cooking games for kids
What better way to teach your kids to learn how to cook than by playing games? Here are our five picks for fun, cooking-inspired games to play in the kitchen.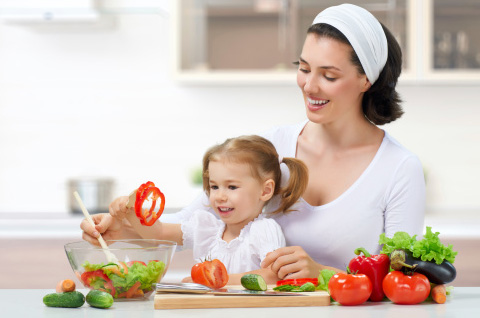 Photo credit: Choreograph/iStock/360/Getty images
Growing up, a love of cooking was never instilled in me. I remember helping my mom bake, on occasion, but the actual cooking was always left to her. As an adult, cooking for my family was a hard lesson to learn, and I'd be lying if I said I always had dinner made each night. To help my kids grow up with a desire to cook, we make it fun by both getting them involved in the entire process and playing games.
Goodgame Café
Goodgame Café is the SimCity of 2014. Instead of building your own city, kids can build their own café where they're both the chef and the business owner. Buy ingredients, cook and serve your food to customers — teaching kids both culinary skills and how to run a business. Now, transfer that game to real life by letting your kids help you pick recipes, prepare the food and serve the meal to the family.
Sensory exploration
Next time you clean out your pantry, let your kids in on the fun! Set up different stations to teach them about different ingredients. Pour flour into a big bowl, let them smell different spices and vinegars, and teach them about the health benefits of the ingredients. Next time you cook a meal, see if they remember any of the foods they learned about.
Make food into crafts
You know, like these caramel turkey legs or these candy corn crepes. If you're not quite as creative, make sugar cookies with the letters of the alphabet and have your kids frost them, all while practicing spelling, reading or their ABCs.
A cooking video game
Nintendo DS has a cooking game that helps kids learn recipes and teaches them how to cook meals for their families. It's called America's Test Kitchen: Let's Get Cooking and features 300 recipes plus how-to video tutorials. There are even age-appropriate tasks so the little ones can get in on the fun, too.
Recipe memory game
This one was invented by yours truly, ahem, me. As I cook dinner, I read off the recipe to my kids a few times through. Their job is to try and remember each ingredient and how much of it is needed. My hope is when they're older they'll have a slew of recipes engraved in their brains. Even my 2-year-old participates — only with easier recipes like spaghetti. This game helps kids both with their memory and with learning new recipes.
Most importantly, if you want your kids to enjoy cooking, allow them to have an active role in the process. Let them choose a recipe or two each week, prep some of the food, practice their seasoning skills and more. Kids usually love to help out — and while doing so they're soaking in a wealth of useful information on cooking.
More Modern Mom
Modern Mom: The importance of vitamin C for your kids
Modern Mom: The best kids' tableware around
Modern Mom: 10 Heart-healthy foods for kids