Oatmeal raisin breakfast cookies
Cookies are an acceptable meal for breakfast when they're stuffed full of healthy oats and raisins.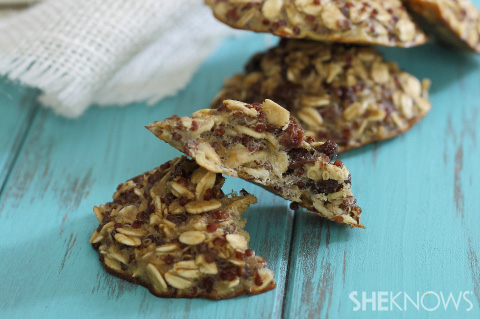 Sometimes it can be hard to find time on busy mornings to get a nutritious breakfast in. These breakfast cookies are full of oats and raisins (with optional quinoa for some extra protein) and the perfect option to grab as you run out the door or as the kids run to the school bus.
Oatmeal raisin breakfast cookies
Serves 8-10
Ingredients:
1 ripe banana, mashed
1 egg
1/2 teaspoon vanilla extract
1 cup oats
1/4 cup raisins
1/2 teaspoon salt
1/4 cup cooked quinoa (optional)
Directions:
Preheat oven to 350 degrees F.
Pulse half the oats in the food processor until meal-like consistency. Add them to a large bowl.
Whisk together the banana, egg and vanilla until smooth.
Add the remaining ingredients to the bowl with the pulsed oats. Pour the wet ingredients in and mix together.
Spoon the mixture onto a parchment-lined baking sheet.
Bake for 12 to 15 minutes.
Remove from oven, let cool completely before storing in an airtight container.
More breakfast cookie recipes
Oatmeal breakfast cookies
Paleo double chocolate breakfast cookies
Homemade breakfast cookies for grab and go mornings