Modern Mom: The working mom's guide to cooking
Wake up, eat breakfast, make lunches, get kids dressed, get yourself dressed, drop kids off at school, go to work, pick kids up from school, help with homework, start the laundry, make dinner (did I miss anything?). I don't know about you, but by the time "make dinner" rolls around, I'm spent. Frozen pizza it is.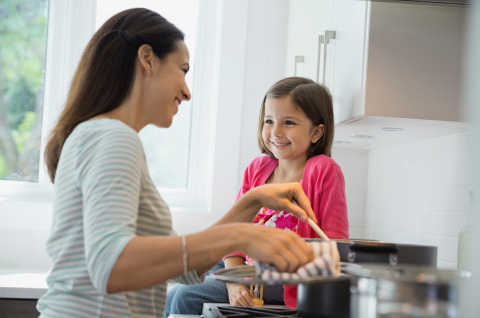 Photo credit: Hero Images/Getty images
That is, until I went on a healthy eating kick and never looked back. Of course, we do have frozen pizzas every once in a while, but they're no longer the norm. Now we eat grilled fish, fresh veggies, fruit salads, healthy carbs like brown rice and quinoa, and lean meats. For me, the goal wasn't to lose weight; it was to put healthy, natural foods into our bodies and ditch the processed junk we all too often fuel our bodies with. Here are five tips to make health a priority even when your schedule is packed.
Plan ahead
This was the deal-breaker for me. If I planned ahead, we ate healthy; if I didn't, we ate processed garbage. While Sundays are normally my day to relax, I make sure to fit in a trip to the grocery store with a meal plan and grocery list in hand. Admit it: How many times have you gone to the store without a list and just "winged it?" I know I have, and on weeks I do that, we eat spaghetti, hamburgers, frozen foods and whatever looks convenient at the time.
Browse recipes throughout the week
Find a few healthy cooking websites you like and visit them regularly. Throughout the week, jot down recipes that look good and add it to next week's grocery list. This method is much easier than sitting down on Sunday morning trying to brainstorm ideas.
Have a few healthy go-to meals
Whether or not you're focused on health, everyone has a few go-to meals they rely on week after week. That's OK! In fact, having healthy go-to meals takes the stress out of creating new recipes each night. I make one new recipe each week, and the rest of the time I rely on nutritious meals I know my family loves. Favorites included baked chicken with asparagus, turkey burgers with baked rosemary sweet potatoes and burrito bowls with brown rice, black beans, sautéed peppers and onions, chicken and salsa.
Keep the recipes easy
As seen above, my favorite recipes consist of a few (usually two) ingredients. As a working mom, elaborate meals just don't happen. While I do like to experiment with a new recipe each week, I still keep it simple. The minute cooking healthy food starts becoming stressful is the minute you'll stop doing it and revert back to processed food. Keeping recipes simple allows you to eat healthy while both on a budget and short on time.
Start exercising
I know what you're thinking: What does exercise have to do with tips on cooking healthy? Well, that was the game-changer for me. I started devoting 30 minutes a day to exercise — be it a walk around the block, a light jog, a workout video, an exercise class or a bike ride. Sometimes I exercised in the morning, other times in the evening. When I exercise, I want to fuel my body with nutritious foods, I want to plan out my meals and I want my health to be a priority. I've noticed when I slack on exercise, that tends to be when I slack on healthy eating, too. And unfortunately, that ripples down to my family.
More Modern Mom
Modern Mom: The importance of vitamin A for your kids
Modern Mom: Teaching your kids to love cooking
Modern Mom: Healthy after-school snacks the kids will love