Restaurant copycat: Cheesecake IHOP pancakes
When I was in college, my friends and I would always go to IHOP after a long night of.... studying. And nothing quite hit the spot like a big plate of their super rich and decadent cheesecake pancakes. Even though I love indulging in those heavenly cakes, they are far more fun to make at home (and you can eat them in your sweats without judgment).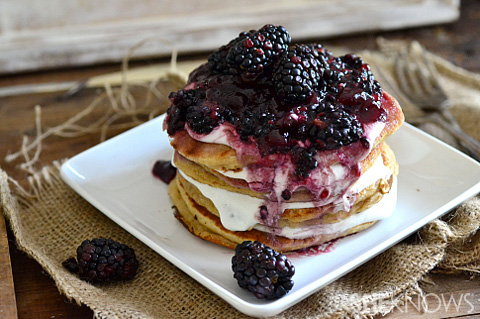 These sweet pancakes are perfect for a weekend breakfast for the kids and hubby, or are even just as good as a dessert! You can top it with your favorite fruit. We chose blackberries, but strawberries and cherries are just as delicious.
Restaurant copycat: Cheesecake IHOP pancakes
Slightly inspired by Food Network.
Serves about 2-4
Ingredients:
1-1/4 cups all-purpose flour
1/4 cup white sugar
1 teaspoon baking powder
1 teaspoon baking soda
1 cup buttermilk
1/4 cup heavy cream
1 large egg
1/4 cup canola oil
1/2 teaspoon cinnamon
2 tablespoons softened butter
2 tablespoons strawberry jam, with seeds
1-1/2 cups fresh blackberries
For the filling:
4 ounces cream cheese
4 ounces unsalted butter, softened
2 cups powdered sugar
1 teaspoon vanilla extract
1 cup graham crackers
Directions:
In a large bowl, whisk the flour, sugar, baking powder and baking soda together. Add in the buttermilk, cream, egg and canola oil, and stir to combine.
Heat the butter in a large skillet over medium-high heat. Add the batter, 1/4 cup at a time, to the skillet. Cook until bubbly on top, about 4 minutes on each side (or until golden brown).
Meanwhile, beat the cream cheese, butter, sugar and vanilla together until fluffy.
To assemble, layer the pancakes with a spoonful or so of cream cheese frosting and 2 tablespoons of graham crackers.
Mix the jam and the berries together, smashing the berries. Top the pancake stacks with jam and berries.
More pancake recipes
Caramel apple pancakes
Not your ordinary pancake recipes
How to make pretty pink pancakes