Funfetti oatmeal
It's hard to start the day off on the wrong foot when there are sprinkles in your breakfast.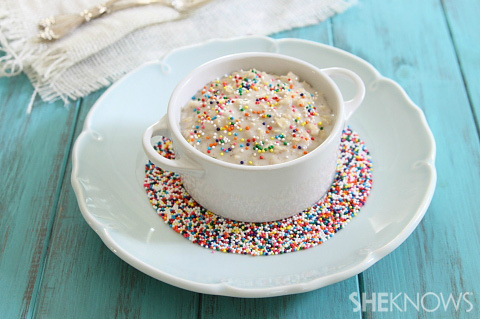 What kid could skip breakfast when there are sprinkles in their bowl of oats? Heck, I can't and I'm 30 something. Just a few sprinkles and some extract makes this bowl of oats taste and look just like funfetti cake.
Funfetti oatmeal
Serves 2
Ingredients:
1 cup rolled oats
2 cups milk
1 teaspoon vanilla extract
1/2 teaspoon almond extract
1/2 teaspoon cinnamon
Pinch of salt
Sprinkles
Directions:
Combine oats, milk, extracts, cinnamon and salt in a saucepan over medium heat.
Whisk together and frequently over heat until thickened.
Add about 1 tablespoon of sprinkles to the oatmeal and stir to combine.
Pour into serving bowls and top with more sprinkles.
More oatmeal recipes
Black forest baked oatmeal
Easy carrot cake oatmeal
Baked oatmeal snack bars