Chocolate avocado pudding pops
Sneak some nutrition into these super chocolaty pudding pops and no one will be the wiser.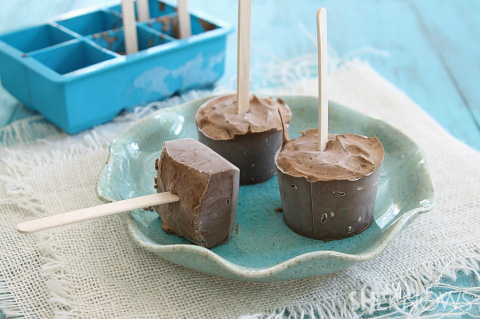 These chocolate pudding pops are a win-win for parents and kids alike — a chocolaty treat they'll love and a great way to sneak some nutrition into dessert so you'll be happy. Guaranteed they'll be none the wiser as they devour these fun and easy pops.
Chocolate avocado pudding pops
Serves 6
Ingredients:
2 ripe avocados
1/3 cup vanilla almond milk
2 tablespoons cocoa powder
1/2 teaspoon vanilla
2 tablespoons maple syrup
2 ounces dark chocolate, chopped
1-1/2 tablespoons coconut oil
Ice pop molds (see directions)
Popsicle sticks
Directions:
Process avocados in a food processor until smooth.
Add milk and process again until fully incorporated.
Add the cocoa powder, vanilla and maple syrup to the food processor.
Melt the chopped dark chocolate and coconut oil in a small microwaveable bowl. Stir together and pour into the food processor as it's running.
Process again until smooth and everything is well incorporated.
Spoon batter out into Popsicle molds. You can also use silicone ice cube trays or paper cups.
If using ice cube trays or paper cups, insert Popsicle sticks into the middle and freeze for at least 4 hours until solid.
More ice pop recipes
3 Easy ice pops
Raspberry-orange ice pops
Chocolate dipped raspberry smoothies on a stick