Raspberry clafouti
Raspberry clafouti takes summer's bounty and puts it in a beautiful pudding cake. Serve alone or with ice cream for an amazingly flavorful and picturesque dessert.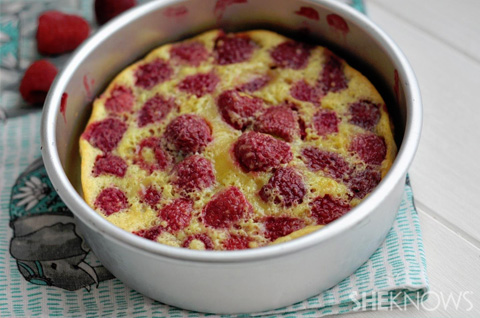 Raspberry clafouti
Serves 6
Ingredients:
2 cups fresh raspberries
1/4 cup Framboise or rum
2/3 cup granulated sugar, divided
1 cup flour
1 cup milk
3 large eggs
1 tablespoon vanilla
Zest from 1 lemon
1/4 teaspoon salt
Directions:
Preheat oven to 350 degrees F.
Grease a 9-inch round pie pan with butter and set aside.
Combine the raspberries, 1/3 cup of sugar and Framboise and allow to macerate about 15 minutes.
Place the raspberries in the bottom of the prepared pie pan, reserving the liquid.
Combine the macerating liquid, remaining 1/3 cup of sugar, flour, milk, eggs, vanilla, lemon zest and salt in a high-speed blender and blend until smooth.
Pour the batter over the raspberries.
Bake at 350 degrees F for 40 to 50 minutes until the top is golden and the batter is just set.
Let cool for 10 to 15 minutes before serving.
More clafouti recipes to love
Strawberry clafouti
Perfect plum clafouti
Strawberry and cherry clafouti