Pork chops with white wine peaches
Pork chops with white wine peaches is a great date night dinner. Kids and adults alike will love the flavors.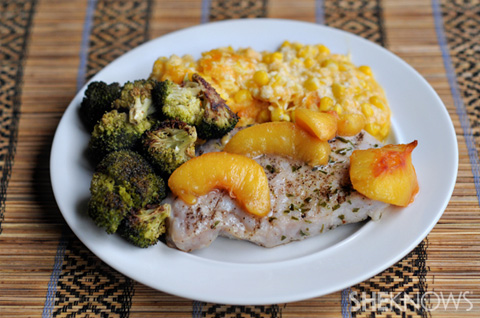 Pork chops with white wine peaches
Serves 4
Ingredients:
4 (1-inch thick) boneless pork chops
3 cups water
1/4 cup salt
1/4 cup sugar
3 bay leaves
3 large fresh peaches, peeled and cut into 8 slices apiece
1/2 cup white wine
Dried tarragon leaves
Directions:
Combine the water, salt, sugar and bay leaves in a small saucepan over high heat, cooking until the salt and sugar dissolve.
Pour in 2 cups of ice cubes to cool the brine, then pour the brine into a large plastic bag.
Add the pork chops, seal the bag and refrigerate for 2 to 4 hours.
Remove the pork chops, pat dry with a paper towel, and sprinkle with dried tarragon.
Line a baking sheet with parchment paper and preheat oven to 425 degrees F.
Place the pork chops on the prepared baking sheet and bake at 425 degrees F for 20 to 25 minutes until the internal temperature reaches 145 degrees F.
While the pork chops are baking, add the peaches and white wine to a shallow saute pan.
Simmer for 10 to 15 minutes until peaches are soft and flavorful.
Serve the pork chops with the peach mixture on top.
More favorite pork chop recipes
Pork chops and applesauce reinvented
Grilled cilantro-lime pork chops
Apricot glazed pork chops