Totcholada casserole
Crispy tater tots are slathered in spicy red enchilada sauce, cheese and fresh toppings for this fun and easy kid-friendly dinner.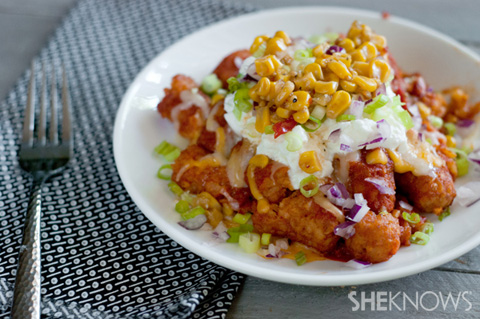 Frozen tater tots don't have to be just a side dish anymore. In fact, you can get super creative with dinner like I did in this recipe. I used tater tots and baked them until crispy golden brown. I then covered them in a red enchilada sauce, topped them with cheese and returned them to the oven for a several minutes to allow the cheese to melt. Serve up this super simple dish with tangy sour cream, onions and spicy corn salsa.
Totcholada casserole recipe
Yields 6 servings
Ingredients:
For the casserole
1 (28 ounce) bag frozen tater tots
2 cups enchilada sauce
2 cups shredded cheddar cheese
For the toppings
Sour cream
Sliced green onions
Diced red onions
Store-bought corn salsa
Directions:
Preheat oven to 400 degrees F and spray a large casserole dish with nonstick cooking spray.
Arrange the tater tots in a single layer in the casserole dish and bake as directed on the package.
Once baked, remove the tots from the oven and drizzle the enchilada sauce over the tops.
Sprinkle the cheese evenly over the potatoes and bake for an additional 5 minutes.
Remove from the oven and divide between dinner plates.
Top with sour cream, onions and corn salsa. Best served warm.
More casserole ideas
Loaded baked potato and chicken casserole
Tuscan eggplant casserole
Southwestern quinoa bake