Modern Mom: Our favorite homemade ice cream recipes
Summer is officially coming to a close — and whether you lived it up spending all of your free time outside or didn't quite have the spectacular summer that you dreamed of — you can still end it with a bang. That's right — we're talking ice cream.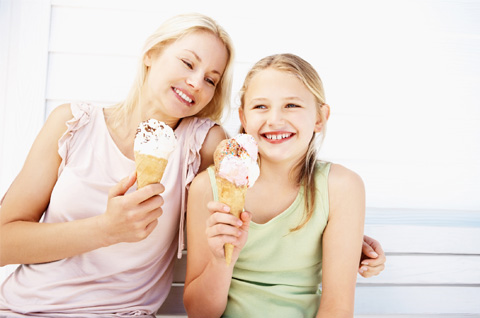 Photo credit: Joshua Hodge Photography/E+/Getty images
I scream, you scream, we all scream for ice cream! To celebrate the end of summer and the start of fall (and the new school year), throw your kids a little ice cream social. Invite friends and make an afternoon out of it or surprise your kids after dinner one night with homemade sundaes. You can go all out or keep it simple — but one thing's for sure, if ice cream's involved, your kids will be happy. Here, we're sharing our best mouth-watering, melt-in-your-mouth, can't-have-just-one-bowl ice cream recipes.
Super-easy ice cream
OK, I'll be the first to admit that as much as I love making my kids happy (and ice cream), the thought of taking out the ice cream maker, cleaning it and reading through the directions sometimes just seems like a hassle. It's much easier to just buy our favorite flavor at the grocery store. But that's not nearly as fun, right? To make it extra special, your ice cream surprise should be homemade. This super-easy homemade ice cream recipe does just that — without the use of an ice cream machine. Yes!
Our favorite ice cream recipes
Wendy's Frosty. Earn bonus points with your kids by telling them you're duplicating the Wendy's Frosty. And with this recipe, you certainly won't disappoint.
Reese's cup Blizzard. Another ice cream treat your kids will go nuts for is this homemade Reese's cup Blizzard. It's half the price of the one at Dairy Queen — and tastes a million times better.
Cinnamon and sugar-coated ice cream bites. Three words: Fried. Ice. Cream. That's exactly what this recipe brings to the table — only the ice cream isn't actually fried — a win-win in our book!
Dark chocolate peanut butter swirl ice cream. This is one recipe you will love just as much as your kids. It's chocolaty, it's peanut butter-y, it's creamy… need we say more?!
Frozen banana peanut butter guilt-free ice cream. If you're looking for a splurge without the calories that usually come with it, you'll want to give this recipe a try. When frozen, bananas have the smooth and creamy characteristics of ice cream — all without the guilt.
Fruity frozen yogurt. Try one of these four frozen yogurt recipes — including fresh fruit frozen yogurt pops, peach frozen yogurt, almost instant frozen fruit yogurt and frozen yogurt-covered fruit pops.
Roasted strawberry hot fudge milkshake. Roast the strawberries in the oven before blending them with ice cream and hot fudge. It gives the shake an added flavor plus creates anticipation among the kids.
Crunchy caramel apple boozy milkshake. WARNING: Not suitable for children! Moms and dads, this one's for you. Nothing says 'fall' quite like a caramel apple. And what better way to ring in the start of the kids' school year than with a little booze and a little ice cream? Exactly. Savor this treat when the kids go to bed — you won't regret it.
Tell us: What's your favorite ice cream flavor?
More Modern Mom
Modern Mom: The importance of vitamin C for your kids
Modern Mom: Healthy after-school snacks the kids will love
Modern Mom: The best kids' tableware around