Restaurant copycat: Chili's chimichangas
I can count on one hand how many times I've had a chimichanga. When I'm craving Mexican food, my go-to is usually a few tacos, a big plate of enchiladas or a bowl of queso dip with a spoon. But it's not because they aren't amazing or easy to make, they just aren't as popular as their other Tex-Mex counterparts.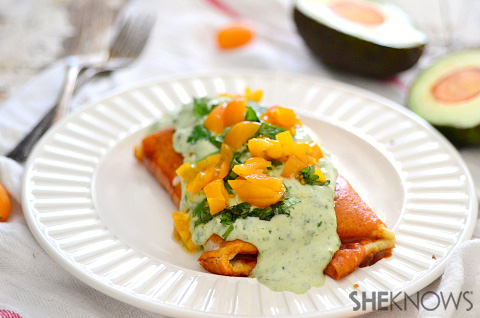 And I'll be the first person to admit that this should change. These cheesy, meaty and sauce-filled tortillas are the love child of enchiladas, burritos and tacos, and boy do I hope they keep reproducing. Unlike the Chili's version, these are baked, not fried, making them just a wee bit healthier (and easier to make without burning your arm off).
Restaurant copycat: Chili's chimichangas
Recipe inspired by Food Network
Serves about 4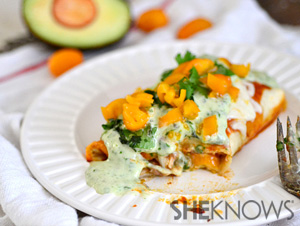 Ingredients: 
2 tablespoons extra virgin olive oil
1 medium onion
3 cloves garlic, minced
1 jar whole green chiles, chopped
2-1/4 teaspoons Mexican seasoning
1/2 cup diced tomatoes with chiles
2-1/2 cups rotisserie chicken
Salt and pepper
15 ounce jar refried beans
1 cup cheddar cheese
1/4 cup mozzarella cheese
Yellow tomatoes, chopped
1 cup red enchilada sauce
For the avocado sauce:
1/2 avocado
1 cup loosely packed cilantro
2 tablespoons lemon juice
1/4 cup olive oil
2 tablespoons cream
Chopped tomatoes
Dash of salt and pepper
Directions: 
Preheat oven to 425 degrees F. Grease a 9 x 13-inch baking dish with nonstick cooking spray and set aside.
Heat the olive oil in a large skillet over medium heat. Add the onions and garlic. Heat about 2 minutes, or until softened. Mix in the green chiles and Mexican seasoning, heat another 2 to 3 minutes. Add in the diced tomatoes and chicken. Sprinkle with salt and pepper. Warm about 4 minutes. Remove from heat.
Spread about 2-1/2 tablespoons of refried beans down the center of the tortillas, leaving a 1/2-inch border on each side. Top the beans with about 3/4 cup of the chicken mixture and 4 tablespoons of cheese.
Fold the tortilla ends up and tuck inside (so you have a burrito with tucked sides).
Place the chimichangas seam-side down into the prepared baking dish. Pour 1/4 cup of the enchilada sauce over each chimichanga and bake for about 10 minutes. Sprinkle with remaining cheese (1/4 cup of mozzarella).
While chimichangas bake, process the avocado, cilantro, lemon juice, olive oil, cream and salt. Puree until smooth.
Scoop sauce over each chimichanga and sprinkle with chopped tomatoes. Add a sprinkle of salt and pepper.
More Mexican recipes
Layered enchilada casserole
Grilled tomato and avocado salsa
Quick bean enchiladas