Fruity pina colada smoothie
With each sip of this creamy smoothie you'll hear tropical music and the sound of waves on the seashore.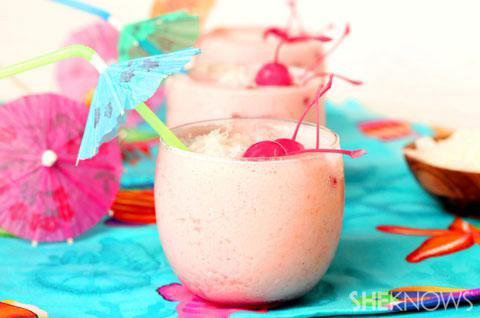 Sit back and relax when enjoying this tropical delight. Not one, not two but three coconut ingredients are in this smoothie. First there is shredded coconut, then there is the coconut milk. Can you guess what the third coconut ingredient is? I'll give you a hint, "water." You got it, it's coconut water. The co-stars of the show in this smoothie are strawberries and pineapple. And a fruity drink just has to have a cherry on top. Or two or three.
Fruity pina colada smoothie recipe
Serves 3
Ingredients:
1 cup plain nonfat yogurt
2 tablespoons sweetened shredded coconut
1/2 cup coconut milk
1/2 cup coconut water
1 cup canned pineapple chunks (strained)
2 tablespoons honey
5 large frozen strawberries
1 cup ice cubes
9 pink maraschino cherries (for garnish)
Directions:
Add all ingredients except for the cherries to the blender.
Blend on the smoothie setting.
Pour into serving glasses and top with cherries. Serve while ice cold.
More smoothie recipes
Mango cinnamon and basil smoothie
Blueberry banana and mint smoothie
Strawberry lemonade banana smoothie