Restaurant copycat: Olive Garden baked Parmesan shrimp
When I was in college, dinner at the city's only Olive Garden was like a trip to the French Laundry now, highly regarded and celebrated for weeks. As much as I still enjoy an occasional jaunt to the nearest OG, I have to admit, it's more fun recreating their signature dishes at home! Plus, who wants to pay $9 for a glass of cheap wine?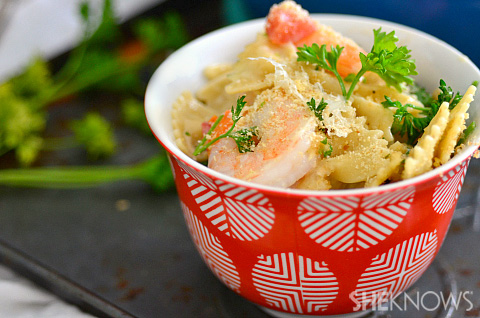 Now I can indulge in my favorite Olive Garden classics without having to put on real pants or deal with angry stares from other customers when your kids stuff breadsticks in their nose. This crispy baked shrimp is even better than the classic because you can have as much as you'd like without having to pay extra!
Copycat Olive Garden baked Parmesan shrimp
Recipe adapted from Copykat
Serves about 4-6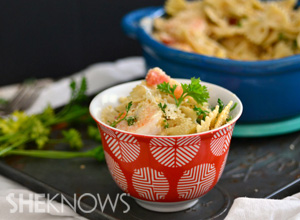 Ingredients: 
8 ounces cooked farfalle pasta
1/2 cup unsalted butter
1-1/2 cups heavy cream
1/2 cup light cream
2 tablespoons corn starch
3/4 cup freshly grated Parmesan cheese
1/2 cup mozzarella cheese
8 ounces cooked shrimp, tails removed
1 plum tomato, chopped
1/3 cup chopped curly leaf parsley
Salt and pepper
3 tablespoons breadcrumbs
2-1/2 tablespoons Parmesan cheese
Directions: 
Preheat oven to 350 degrees F. Grease an 8 x 8-inch glass baking dish with nonstick cooking spray.
In a large skillet over medium heat, add the butter and melt. Whisk in the corn starch, heavy cream and light cream until corn starch is dissolved. Bring the mixture to a simmer and stir until the back of a wooden spoon is coated. Remove from heat and stir in the Parmesan cheese and mozzarella cheese.
Add salt, pepper and chopped parsley. Pour the cheese mixture over the cooked pasta and mix in the chopped tomato and shrimp.
Pour the pasta into the prepared baking dish. Top with breadcrumbs and Parmesan cheese. Add cracked black pepper.
Bake for about 11 to 13 minutes, or until golden brown.
More restaurant copycat recipes
Homemade copycat candy bars
Starbucks copycat pumpkin scones
Copycat McDonald's baked apple pie