Modern Mom: Back-to-school snacks for kids
It's August — summer is officially coming to a close and school is back in session. It's time to start meal planning and providing healthy options for your kids again. In the snack department, we've got you covered!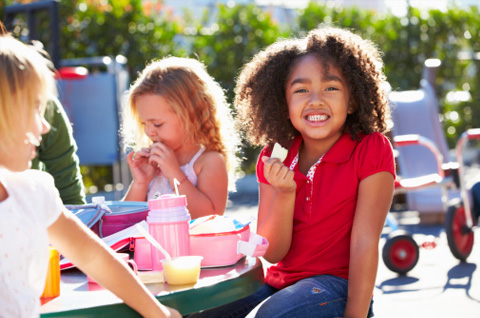 Photo credit: monkeybusinessimages/iStock/360/Getty images
Snacks do not have to mean potato chips, ice cream and chocolate chip cookies (though, every once in a while that can be nice!). Kids need fuel to get them through their days, and while processed foods may be cheap and easy, they're not going to provide the nutrition your little ones need. Here, we've gathered some healthy — and simple — back-to-school snack ideas for your kids.
After-school treats
I don't know a single kid that doesn't come home from school starving. Instead of letting them eat you out of house and home, have a few healthy snack options ready and waiting for them. We love this homemade microwave popcorn or this gluten-free pizza-flavored popcorn.
Another favorite snack of ours is Chex mix. To make it yourself, simply throw in a few of your favorite snacks (Chex cereal, pretzels, Cheez-Its, Goldfish, nuts, Cheerios, bagel chips, etc.), top with a few handfuls of grated cheese, pour on some melted butter and bake for about 15 minutes. We love doing this about once every two weeks to clear out some snacks and bring in some new ones.
If your kids aren't big veggie fans (whose are?), bake up some sweet potatoes after school one day and see if you can change their minds. Chop up three large sweet potatoes in small chunks, add in a few tablespoons of olive oil, fresh rosemary, salt and pepper and bake for an hour at 400 degrees F. Sweet potatoes are an excellent source of iron, vitamin B6, vitamin C and vitamin A. For a dessert version, try these caramelized sweet potato skewers.
Snacks to share
Whether there's a birthday in the classroom or a play date at your house, sometimes you need to make enough snacks to feed a crowd. Fruit skewers are fun, or mix it up by adding brownie bites or chocolate-dipped bananas in between the fruit wedges.
If the party's at your house, set up a yogurt bar instead of the traditional ice cream sundae bar. Choose two different flavors of yogurt (or just stick with vanilla) and put a variety of healthy toppings into bowls — including granola, blueberries, strawberries, yogurt chips, dried fruit, dark chocolate chips and an assortment of nuts.
Creative snack ideas
Other ideas for delicious after-school snacks include meat and cheese plates, fresh veggies with peanut butter for dipping, apples or pears and cheese, frozen grapes, pita bread and hummus, pretzels with cream cheese or yogurt, applesauce, sugar-free banana bread, peanut butter toast with dark chocolate chips, fruit smoothies and even baked kale chips. With a little creativity and planning, snacks can be healthy, fun and filling.
More Modern Mom
Modern Mom: The importance of vitamin A for your kids
Modern Mom: Food and recipe ideas for toddlers
Modern Mom: 10 Heart-healthy foods for kids