Grilled campfire potatoes
Grilled campfire potatoes are perfect for those summer nights spent in the outdoors. You don't have to be camping to enjoy these delicious spuds; make them in your oven for a delicious side dish any time of year.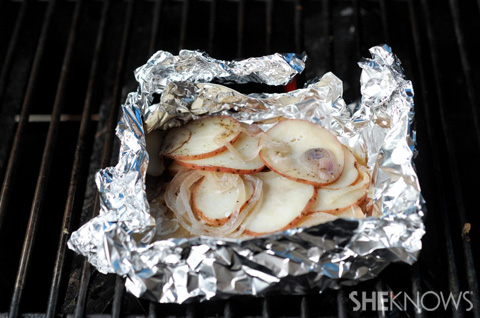 Grilled campfire potatoes
Serves 6
Ingredients:
5 large Yukon Gold potatoes
1 large red onion
2 tablespoons salt
1 tablespoon black pepper
1/3 cup melted butter or bacon grease
Directions:
Very thinly slice the potatoes, skin on, and onions. A mandoline works best for this, but a sharp knife will work as well.
When the potatoes and onion are sliced, create a large foil packet out of heavy-duty aluminum foil.
Layer 1/3 of the potatoes, 1/3 of the onion, 3 teaspoons of the salt and 1 teaspoon of pepper on the bottom of the packet.
Repeat 2 more times until all of the ingredients are used up.
Drizzle the butter or bacon grease on top of the potatoes, seal up the foil, and place on a preheated grill at 400 degrees F. If using an oven make sure it is preheated to 400 degrees F.
Grill or bake for 45 to 50 minutes until the potatoes are all cooked through.
Serve hot.
More drool-worthy potato recipes
Crispy Parmesan potatoes
Loaded Mexican stuffed sweet potatoes
Herbed scalloped potatoes