Cinnamon coconut sugared doughnut holes
These delicious and easy homemade doughnut holes are tossed in a cinnamon and coconut sugar mixture making you forget all about the doughnut shop.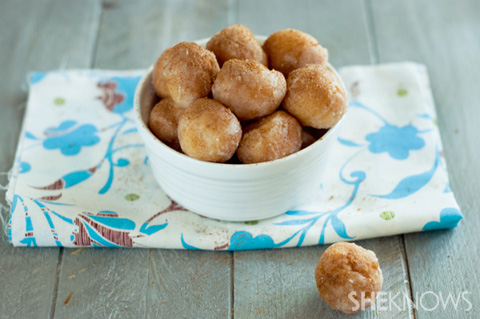 These little bite-sized treats will leave you wanting more. Fresh homemade doughnut holes are made quick and easy and then rolled in a spicy cinnamon and coconut sugar mixture. These are perfect for satisfying that sweet tooth, watching portion sizes or for kids' little fingers. These are sure to impress making you want to forget about buying doughnuts out.
Cinnamon coconut sugared doughnut holes recipe
Yields about 3 dozen
Ingredients:
For the doughnut holes
1-1/2 cups all-purpose flour
1/2 cup coconut sugar
2 teaspoons baking powder
1/2 teaspoon sea salt
1/2 teaspoon ground cinnamon
1 whole egg
1/2 cup buttermilk
1 teaspoon pure vanilla extract
Vegetable or canola oil for frying
For topping
2 tablespoons melted coconut oil
2 tablespoons ground cinnamon
1/4 cup coconut sugar
Directions:
In a mixing bowl combine the flour, coconut sugar, baking powder, sea salt and cinnamon mixing well.
In a separate mixing bowl, add the egg, buttermilk and vanilla extract and mix well.
Add the wet ingredients to the dry and mix making sure there are no lumps.
Fill a deep pot about 2 inches deep with the vegetable oil and heat to 350 degrees F.
Begin dropping tablespoon-size balls of the dough into the hot oil frying for 2 to 3 minutes or until golden brown. Repeat until all the dough is fried.
Once all of the doughnut holes are made, toss them in the melted coconut oil and then roll them in the cinnamon coconut sugar mixture.
Serve immediately or store in an airtight container for a couple of days.
More sweet treats
Brownie batter milkshake
No-bake peach cheesecake in jars
Meyer lemonade cake